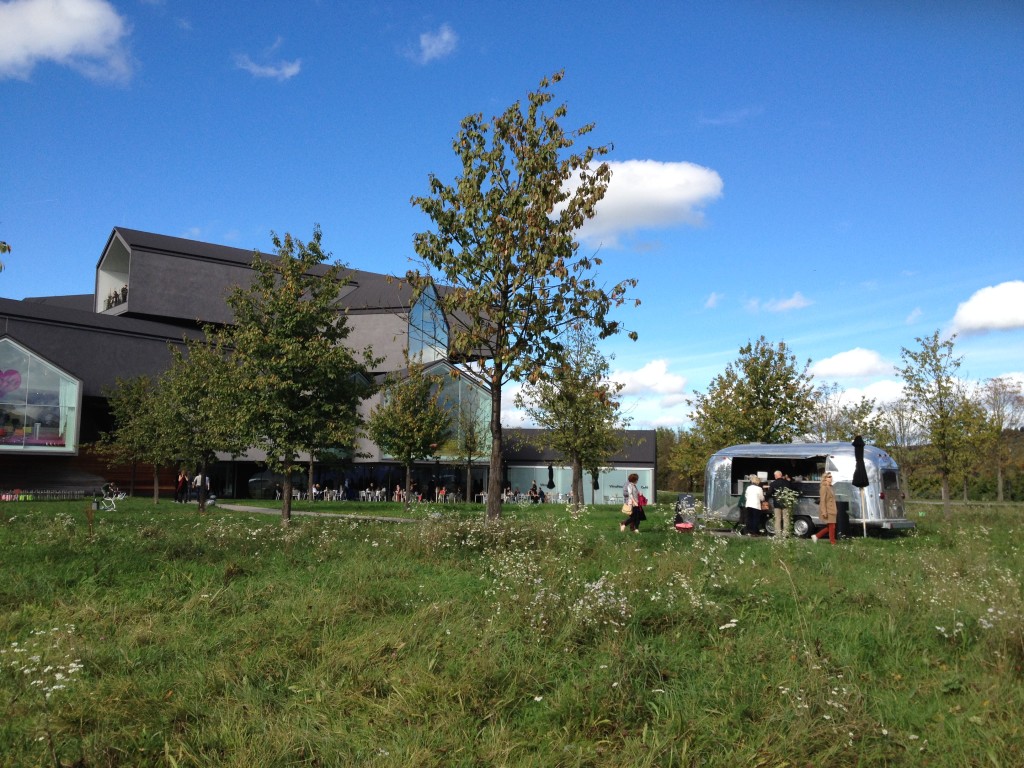 MUSCON 2014
European Museum Network Conference
Vitra Design Museum
Charles-Eames-Str. 2, Weil Am Rhein, Germany
www.design-museum.de
15 to 18 October 2014
Last year I was invited to attend a MUSCON conference hosted by the Vitra Design Museum, the institution that instigated the network back in 1996. I was present as an observer (along with fellow researchers Sabina Michaelis and Rosita Satell from the University of Southern Denmark) as the event is intended for staff from member institutions to pitch and negotiate the "buying and selling" of upcoming exhibitions as touring shows (here's how VDM do it). Every year or so there are regional MUSCON conferences in Europe, the US and Asia. As a crash-course in museum programming and an introduction to a wide range of institutions (from Finland to Italy, Kilkenny to Ljubljana), the conference offered an opportunity to underpin my research with the kind of real-world issues facing museum staff…and put names to faces. Although not every MUSCON institution is a "design museum" they're all keen to include design in their curatorial offer.

Between conference sessions delegates were treated to the hospitality of the world's most design-conscious furniture company and after sampling the café and newly refurbished "works canteen", we'd nip off to inspect VitraHaus, a phenomenal retail space designed by Herzog & de Meuron; more about selling design, here. The biggest bonus though, for any design-fan, was that this conference coincided with the Vitra Design Museum celebrating its 25th anniversary; it opened just weeks after London's Design Museum in the summer of 1989. I've wanted to visit the "campus" since first seeing spectacular images of the Museum and Vitra's growing collection of architectural icons (here's a map), framed by grassy expanses and big skies. So even on a drizzly, grey day the guided tour was a treat, as was visiting the extensive Alvar Aalto Second Nature exhibition (27/9/14 to 1/3/15), organised by VDM Chief Curator Jochen Eisenbrand (with the Alvar Alto Museo), dramatically installed in the Museum designed by Frank Gehry.
More than just a prototype for the "Bilbao-effect" (The Economist, 21/12/13), Gehry's Museum is even more spectacular inside than out, with gravity-defying masses and voids jostling for attention wherever you look. And, of the other "collected" buildings, Zaha Hadid's Fire Station, although now a re-purposed folly, could be said to have the aura of an artwork. It exudes uncompromising confidence and an exhilarating degree of sheer physical strength. See this post on Curbed for more of that building's fascinating narrative.
It was interesting to hear museum professionals describe their institutions, pitch ideas and feedback on the successes of previous collaborations. A good touring show is, fundamentally, an opportunity to collaborate; the "instigator" institution should leave space for subsequent partners to tailor, editor or extend a show to better fit prospective venues and audience. Meanwhile a "partner" institution gains access to collections beyond their own storerooms and the expertise and research of a extended cadre of new colleagues. Each iteration of a touring show develops its own character and focus, which Jean Paul Gaultier commented on during his talk at London's Barbican Centre (15/4/14); see here for a recap. Beyond access to collections and archives, touring shows that are linked to events, such as Biennals and Design Weeks, provide new connections to geographically dispersed communities of contemporary practitioners.
A series of talks and keynotes augmented the "hard sell" (very civilised), tackling issues around collections, curation and display. Mateo Kries, Director of VDM, traced the evolution of a growing awareness of design that led to the opening, in the late-1980s, of the first specialized museums. Now, as our understanding of design changes – from products to themes, in quality and scale – definitions are pushed, making new approaches necessary. At VDM that means including contemporary practice in historical exhibitions, and presenting more critical and complex visions. With contemporary design, which is already familiar via the media, collaborations with designers can create narratives, fictions and immersive environments. Mateo encouraged institutions to share – unique objects, national collections and temporary shows – and to make collections and libraries publicly accessible. He emphasized the importance of culture to the economy, and that research, events and cross-disciplinary collaboration can tackle the biggest issues and engage wider audiences.
Angelika Nollert was made Director of Die Neue Sammlung, Munich in May 2014. She reminded us that it houses 100,000 "exemplary" objects, and having been set up in 1925 is the world's oldest design museum (and yes, other institutions do like to claim the title too…). Once in the job she was faced with that "very old question", what is the future of design museums? Angelika states, "utopia is the right to education", and that the most important resource of any museum is people, as people make ideas. Education and entertainment needs to be backed by research, and she highlighted the economic relevance of the creative industries; in the UK creativity earns more than finance. But, she questioned, with museums being "barely funded" by public money, how can we be independent in times of shrinking budgets? She suggested that design has additional properties over the visual arts – it's fast, it acts and reacts, and is involved at all levels of social interaction. Thematic shows could be the way forward but they need "more curating", better research, a team of mixed disciplines, and a new level of transparency to present discussion and process.
As London's Design Museum gets close to relocating, Caroline Grewar, Deputy Head of Exhibitions, revealed details of its "path to a new home" in Kensington. She explained how the process provided time to reflect on why the Museum was set up, and founder Terence Conran's original aims, to raise awareness of design and stem the decline in British manufacturing. The Museum's initial incarnation, the Boilerhouse at the V&A, was "light on its feet", an anti-museum unburdened by archives, conservation or collections, but it "played a vital role in putting design on the agenda in the UK". (This useful blog post on the V&A's website is not completely accurate; pictured is "The Link Gallery" affiliated to the Sculpture Department). Caroline ran through a range of recent shows highlighting the Museum's mission to work with different exhibition and graphic designers. Plans for the new venue include studios for Designers in Residence; three temporary exhibition spaces, ranging from 3,000 to 10,000 square metres; 400 square metres for learning, to accommodate up to 60,000 learners per year (a three-fold increase); and, while the kunsthalle shows will be paid entry, the permanent displays are to be free. The aim is to double visitor numbers, from 250,000 (60% are design specialists) to 500,000 per year.
Denise Hagströmer, Senior Curator, National Museum of Art, Architecture and Design, told us about major plans in Oslo. "Fitted between politics and industry, city hall and the docks", the new-build National Museum brings together art, design and architecture in a "nation building" exercise. The aim is to collaborate across departments (previously separate museums) while sustaining the identity of each discipline. It's been a long process, and at times chaos has ensued; three directors resigned amid a "total restructuring of all staff". The big question under discussion is: "how do you activate objects?" Suggested strategies include storytelling and sharing research, which require an investment in scholarship, and Denise (herself a Swede) reminded us that a similar process is also progressing at the National Museum in Stockholm; sharing information about such developments is key. Questions and answers followed, with an emphasis on connectivity, investing in new buildings and websites, but also people. One delegate filled us in on the state of design culture in India, with news of the National Institute of Design (NID) and Indian Design Forum (IDF).
And then there were the presentations. This post being almost a year late(r), some of the first-leg exhibitions are done, others are still on; so here's a whirlwind tour of Europe! Leading the way with interactivity…in the Danish Design Museum, Copenhagen, at the landmark exhibition Wegner – Just One Good Chair (3/4 to 7/12/14), visitors were allowed to sit on a third of the 150 chairs displayed. (It may seem simplistic to call "interactivity" but it's a basic request of visitors contemplating a chair in a design museum, "can I sit on it?) At Trapholt in southern Denmark, you can alternate between an edit of an extensive permanent collection of cool Danish Modern and trend forecaster Lidewij Edelkoort's hot exposé of Fetishism (until 12/1/16).
A very active proposition, the Zuiderzee Museum aims to "rethink traditions" by inviting visitors to take part in an extensive programme of artist-run events. The model of a modern exhibition centre, Kunsthal Rotterdam with no collection it's staged 500 exhibitions in 25 years. That said, the current show Curating the Collection (until 30/8/15) mined the archives to create an exhibition about exhibitions, all presented in a Rem Koolhaus building. Next door, catch the in-partnership NL/BE Design Derby at Rotterdam's Museum Boijmans Van Beuningen first (until 13/9/15). And check out selections from its permanent collection of design and decorative art (140,000 objects). If you miss it in the Netherlands, the Design Museum Gent is hosting the return match; Design Derby BE/NL 1815-2015 (23/10/15 to 13/3/16), which despite the silly name promises a 200-year survey of design from the North Sea Region.
The unmissable Atomium in Brussels presented a taster exhibition, Orange Dreams (26/11/14 to 25/5/15), showcasing the collection of Philippe Decelle's Plasticarium, and opens its permanent design display, ADAM (Art and Design Museum), in December 2015. Also in Belgium, the Centre d'Innovation et de Design at Grand-Hornu is housed in an historic building, a landmark of early industrial architecture. It's currently hosting Jasper Morrison: Thingness, his first retrospective (until 13/9/15).
For its Making Africa exhibition (until 13/9/15), the Vitra Design Museum sent curators travelling, to run workshops and interview designers in cities across the continent. Still in Germany, another institutional anniversary; Museum Angewandte Kunst Frankfurt celebrates 30 years by rediscovering its Richard Meier building, opening up the original floor plan, windows and vistas (until 24/4/16). Also on the theme of transparency, the Museum für Gestaltung Zürich showed off its "schaudepot" (open storage) and offered guided tours.
MAK Vienna's monograph HOLLEIN (25/6 to 6/10/14) told us how the eponymous architect curated the very first exhibition at New York's Cooper-Hewitt, MANtransFORMS, in 1976, exploring how everyday objects are transformed by different peoples in different times and places; and I really hope this show travels. The brand new Moscow Design Museum does outreach, getting on the road in a Mobile Exhibition Hall, aka, an extra-muralled bus. Helsinki's Designmuseo, has collections of 75,000 objects, 45,000 drawings and 125,000 photographs, and holds the complete archive of Marimekko, possibly the most colourful company in the world, which furnished a touring show that ran and ran.
Ljubljana's Museum of Architecture and Design (MAO) plays a central role in the Biennial of Design, which has run for 50 years (another anniversary). This time out, instead of staging a competition, it issued invitations to 120 practitioners to collaborate (and be mentored) over six months, foregrounding process and establishing the city as a "lab for design". At the Hotel BIO50, people could apply to stay if they gave something back; a book of the proceedings, Designing Everyday Life, looks a good read.
Another year-long festival, Irish Design 2015, is a government initiative focusing on design as an boost to employment and business. Exhibitions are staged across Ireland, with Dublin Castle as a hub in the capital, and the future aim of establishing a permanent home from Irish design. At the other end of the process, we saw behind the scenes preparations for the (how opened) Museu del Disseny de Barcelona, including a state of the art conservation department and versatile graphic language, and were invited to Barcelona for MUSCON 2015, the next European meeting, from 30 September to 3 October.
All photos, apart from the lovely shot of the Museum, taken by Liz Farrelly on an Apple iPhone 4S