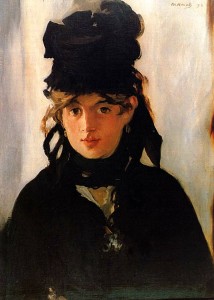 Exhibition: Great Art on Screen
Manet: Portraying Life
Duke's at Komedia, Brighton, UK.
Attended, 3pm, 16 April 2013
Sneaking off to the movies mid-week and daytime usually feels slightly naughty, but this particular escapade fits well with my MPhil/PhD research topic, which is looking at the future of museums (OK, that's a bit vague)…

So, enjoying the swish facilities at the Duke of York's new central Brighton venue, and as part of an appreciative full-house whose average age made us feel like teenagers again (no disrespect), we settled back into our luxuriously plush seats for a visual feast, and a new learning experience. (And yes, I brought my main squeeze along).
The majority of footage was shot at the recent, sold-out blockbuster exhibition at the Royal Academy, which thanks to bad timing, we'd missed. Billed as a "world-wide media event", the first, synchronous screenings of Manet: Portraying Life had gone out on 11 April. This extra screening was laid due to demand, and included a Q&A with the (local) filmmaker Phil Grabsky of Exhibitions on Screen and Phil Grabsky Films.
Tracking through the empty galleries, just before the show opened in fact, High Definition cameras treated the movie audience to intense close-ups of art works; you'll never have seen paintings portrayed so beautifully, displaying the vitality of brush stroke and the dynamic mixing of colour and tone. Getting up close and personal with these art works definitely added to my understanding of just how radical a technician Manet was.
Punctuating these ecstatic shots were interviews to camera with a range of experts, conducted by an unflappable host, Tim Marlow. Curators, painters and biographers all explored different aspects of the images and led into themed segments that took us back to Manet's life, work and legacy in Paris, while explaining the workings of the Salon, his relationship to the Impressionists, the changing social mores of 19th-century Paris, and how Manet figures in the history of art.
The Royal Academy show a big exhibition, but the filmmakers restricted their sights to seven paintings, some of which weren't actually in the show, but that helped tell these fascinating stories. So, were we, the cinema audience, privy to a richer, more elucidating experience than the exhibition goer, who may have seen the paintings in all their one-off, aura-inducing glory, but would never get as close as the camera? And, did we learn more (thanks to the talking heads and on-location segments) than the readers of gallery panels, labels and the catalogue?
As an entertainment, this was a stunning experience; and as an educational tool, it was also useful. The actual "pitch" and "tone" of the film was inclusive and in no way dumbed-down; the audience were invited to listen to art historians doing what they do best, explaining history and telling stories, displaying their passion and commitment, using the language with which they talk to students and colleagues. The reasons for theming the exhibitions on portraits, the difficulties of borrowing art works from galleries around the world, the methods for creating an exhibition narrative, and the conversation needs of the objects, were all explained, adding a rich context to the exhibition experience.
The idea of "art on film" linked to a particular exhibition presents an opportunity to access artworks and experts that ordinarily would be spread world-wide, and taps into the media hype that surrounds the blockbuster, i.e., providing a primed audience for, in this case, "all things Manet", is an interesting model for bringing exhibitions to a wider public, in a complementary media and in relative comfort.
That the majority of the audience were over 60 was also interesting; here's proof of the growing demographic of "retiring" baby-boomers, with disposable income and time to play; education in the gallery/museum environment isn't just for school-kids and young families. And, getting your "art fix", while seating comfortably has definite advantages whatever your age.
So, keep an eye on this website for more information about upcoming events by Exhibition: Great Art on Screen.