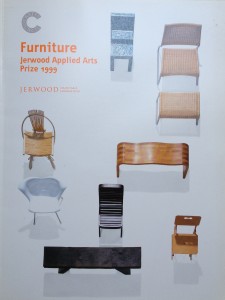 Furniture: Jerwood Applied Arts Prize 1999
Jerwood Charitable Foundation
Crafts Council Gallery
441 Pentonville Road, London N1
26 August to 3 October 1999
I wrote an essay for this exhibition catalogue (produced by the Jerwood Charitable Foundation and the Crafts Council, designed by Pentagram) while I was a nomad, living and working between two continents. I remember the irony of writing about furniture when all I owned was in storage, but I was an unrepentant collector, even buying pieces from fellow students while at the RCA (Allison Jane Thomas's Tutti-Frutti stool (1990) is in the V&A; mine is upholstered in tan leather).
Coincidentally, 1999 was when auctioneer Alexander Payne first coined the term Design Art; he later ditched it due to "misuse" as reported in ICON (8/2/08). So, when I say in the essay, "furniture has no pedestal", that was about to change, although the turn towards narrative and meaning beyond function was acknowledged.
Another shift of emphasis has occurred in the career trajectories of new designers. Where I listed migration to Milan, the epicentre of the contemporary furniture trade, as a right of passage, subsequent diversification of production has widened the geographical spread of design activity. "Eleven years ago UNESCO launched the Creative Cities Network to recognize cities around the world whose creativity has an impact on their social, economic, and political development"; Business Insider spotlights 16 design-focused cities, here. Through a mix of city council initiatives, the presence of museums and universities (with students travelling to study and then relocating), and Design Festivals and Biennales that disperse the power of promotion, designers are living and working beyond the industry's powerhouse cities (Milan, Paris, Tokyo, New York, London), in places like Oslo, Cape Town, Istanbul, Los Angeles and Hong Kong. Hints of that trend were evident in the career choices of the designers selected for this award, perhaps because they foregrounded making in their practice as opposed to mass-production. The shortlist featured Jane Atfield, Robert Kilvington, Mary Little, Michael Marriott, Guy Martin, Jim Partridge, Simon Pengelly and Michael Young.
Continue reading →