This gallery illustrates my whistle-stop trip to Tallinn, Estonia. I was invited to deliver a paper at a seminar, part of the 7th Tallinn Applied Art Triennial, for an edited version of that paper, see here. This post is about my experience of the Triennial, the Estonian Museum of Applied Art and Design, venue for the main exhibition, the old city. The seminar, 'Modes of Mediating Applied Art and Design' was held amid grand Soviet Classicism in the Kino-Soprus, Estonia's oldest existing cinema, built in 1955. Even though it's been divided into a nightclub and art-house theatre, the original interior, featuring Baltic Birch Plywood panelling, remains in tact. In a country that is 50% forest, the material and native tree are emblematic of the region.
Seminar speakers included André Gali of Norwegian Crafts, an organisation that aims to strengthen the position of contemporary craft on both the national and international stage through curation, education and publishing. He introduced the idea of critical theory as a means of bringing a wider perspective to craft practice, using the Frankfurt School and the social sciences to promote a deeper understanding of society. American glass artist, sculptor and educator, Sarah Gilbert, spoke about the cultural value of making and the instability of traditional artistic roles, in an era when Gilles Deleuze's idea of 'no fixed identity' is playing out in the widening chasm between analogue and digital experience. Estonian author, Karin Paulus, wowed the audience with an extensive bibliography of her published titles exploring and celebrating Estonian art, design, architecture and culture, produced throughout a career that also includes curation, teaching and engaging a wider public with the arts of the Baltic region. Hanna Kapanen, a museum educator at Helsinki's renowned Design Museum, told of exciting initiatives for widening participation and attracting diverse audiences. From after school 'Design Kiddie Academy' to the all-ages 'Design Club' where invited designers engage with the public to fulfil the Museum's mission of promoting the 'citizen's understanding of design and design history by increasing design literacy'. Hanna's take-away was that in a museum, 'the same content does not work for everyone', so it's up to the institution's staff to add appropriate interpretation.
Of course I can't walk past a second-hand bookshop and a fine example, the Raamatukoi Antikvariaat, was just around the corner from the venue, with a window full of books, magazines and children's literature from the inter-war years of independence and the post-war Soviet Era.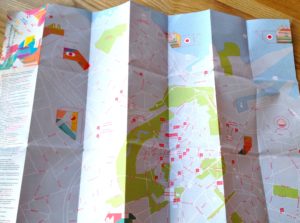 The bulk of my sightseeing took up a busy Saturday; a cute map lists official and fringe events staged in and around the city. The main exhibition of the Triennial, themed Ajavahe: Time Difference and selected by an international jury, is staged at the Estonian Museum of Applied Art and Design and open until 23 July.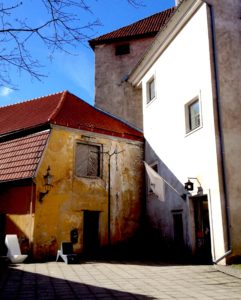 The Museum occupies a series of buildings around a courtyard with the exhibition installation snaking through the ground floor galleries. Visitors are deposited into oases of light via black fabric tunnels; this immersive circulation device knits the diverse exhibits within a coherent whole. The range of materials, scale and techniques on display represents the multifarious practice of contemporary artists/craftspeolple, which was reinforced during an afternoon of talks by the makers themselves.
Held in the Loewenchede Tower, a fourteenth-century construction built into the old city wall and home to Asuur Keraamika, a studio and gallery, accessing the venue necessitated scaling various staircases in wood, metal, stone, to reach the top storey.
Inside a dark circular room, speakers stood before a vast, roaring fire, which warmed and lit the space. It was a magical afternoon, not just because of the smell of wood smoke and the rooftop views through narrow windows, but because I was introduced to so many innovative projects from a roll call of participants: Monika Auch's stitch-my-brain tapestries; Adam Grinovich's captured diamonds; Sofia Björkman's flotsam and jetsam and her influential gallery, Platina; Eero Kotli's fascination with historical bricks, and Nanna Melland's Swarm, an interactive jewellery installation that connects people across the world via the wearing of symbolic steel aeroplanes.
Later I bumped into Nanna in the permanent collection of the Estonian Museum of Applied Art and Design where we admired the refinement and exuberance of the exhibits. Fine examples of ceramics, glass, textile art, printed fabrics, jewellery, leatherwork and book binding were on display, proof of the Estonian traditions, expertise and innovation in craft production. In the upstairs gallery, the exhibition continued with everyday, mass-produced objects representing Estonian product design.
Wall texts by Director, Kai Lobjakas, introduces the permanent collections, in Estonian and English, and explains the aim of the Museum; to present 'an over view of development in Estonian applied art', this being 'a broad selection', more than 2,000 pieces of a much larger collection. The Museum opened in 1980 as The Museum of Applied Art and has undergone five re-hangs, initially concentrating on one-off examples of applied art, but systematic collecting had began in the 1950s at, 'a time when discussion about the reorganisation of everyday life was based mainly around applied art. A decade later this notion had changed and the concept of industrial art entered as the central focus of discourse', with the distinction being made between those who worked as artists and in industry. At this point applied art assumed a new meaning; it was no longer simply a 'spring board' to industrial production but 'became an elite art form'; shown in exhibitions it provided opportunities to experiment and 'afforded unrestricted creativity' and 'Applied Art became the ambassador of culture in the ESSR' [Estonian Soviet Socialist Republic 1940-1991]. Such a high status for applied art is perhaps unique in Europe, where painting, sculpture and architecture are traditionally valued above applied or decorative arts. Because of this status, 'discussions about the need for a specialist museum arose and the collecting of Applied Art began'. The range and diversity of objects collected under that rubric results from the 'deep knowledge of four curators' who 'carefully constructed [a] cross-section' and 'a dialogue between the past and the present', intended as an 'opportunity to become acquainted with the diverse landscape of Estonian Applied Art'.
Whenever I visit a museum for the first time, it's such a pleasure to broaden my knowledge and discover objects new to me, thing that I haven't seen in books or in touring exhibitions. These collections were a revelation, presenting a riot of colour, innovation of form, expertise of technique and skillful handling of materials; so here is a small selection of my favourite displays. One day I hope to return and see more.
Thanks to the organisers of the 7th Tallinn Applied Arts Triennial and the British Embassy Tallinn for the invitation and support. All photos taken with my Apple iPhone 4S.