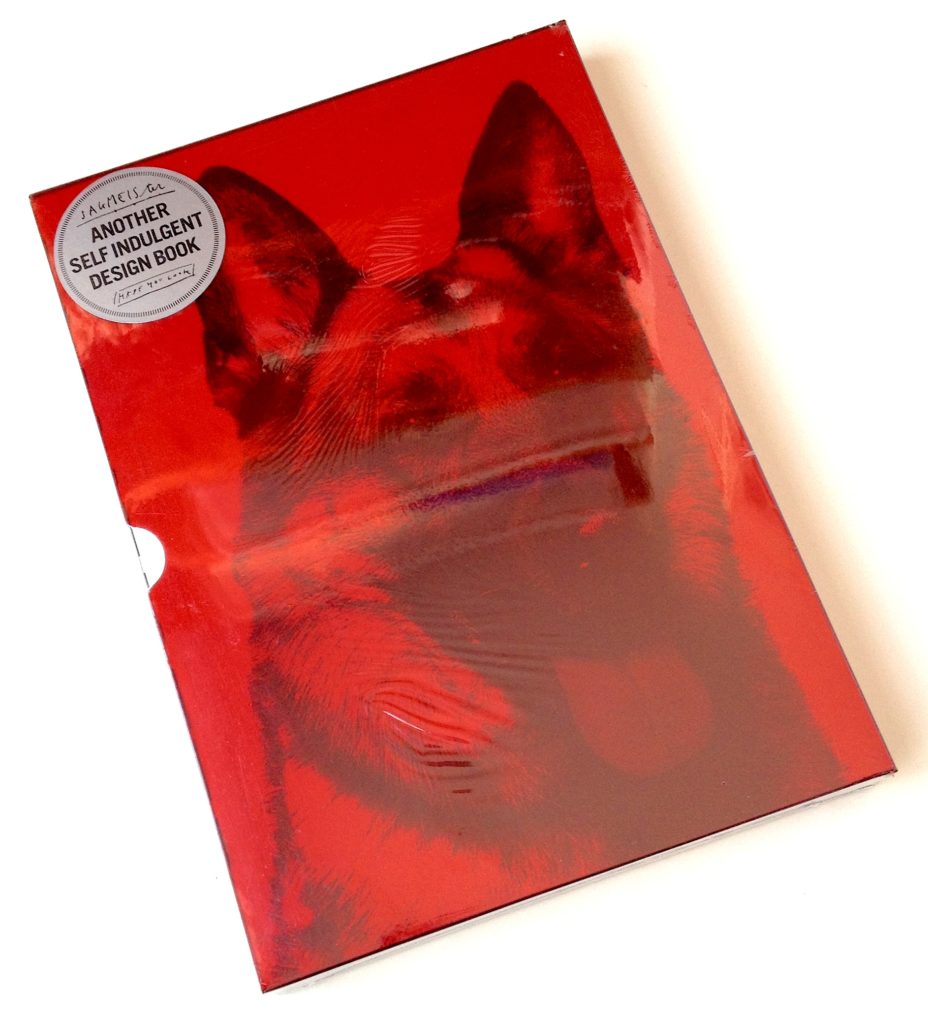 On the occasion of an earlier blog post about The Happy Film, which began as one of Stefan Sagmeister's sabbatical projects, here's an article I wrote when his first book, Sagmeister made you look was about to be published by Booth-Clibborn Editions, as that too was the product of a 'year without clients', his first in fact.
I also worked with Edward Booth-Clibborn but wasn't involved in the editorial or production process of Sagmeister's book, so felt that it was OK to write about it. This article appeared in the esteemed German magazine, Form, subtitled 'The European Design Magazine', and is presented in German and English. Scans of the article are available through the magazine's online archive, here (access requires registration).
Reading this article reveals that even then Sagmeister would seek collaborators with complementary skills, in this case, design writer Peter Hall (for The Happy Film, he worked with co-directors Hillman Curtis and Ben Nabors). But he was wrong about one thing; that once design work is published, it's off the agenda. A star turn like Sagmeister is always going to be known for that poster (info for AIGA Miami scratched into his skin) and that CD cover (Lou Reed's face overwritten with lyrics). If he doesn't show then at a lecture or talk about them in an article it's like your favourite band refusing to play their signature tune on stage; Sagmeister's greatest hits keep his fans happy! This article also points to the performative aspect of graphic design; not only the lure of being 'guest speaker' at an international conference doing your best 'show and tell', but also with regard to selling ideas in client presentations…a very useful skill.

I was reminded to look for my copy of Sagmeister's first book and found it still shrink-wrapped, complete with that brilliant sticker, 'Another self indulgent design book', although it was a little late to that party and avoided the worst excesses. Next time I'm in University of Brighton library, I'll have another look at the book as I can't bring myself to rip into the wrap!
Retyping this, I've kept the original punctuation and subheadings athat are a little provocative; I can't remember if they came from me or the editor! The feature is well-illustrated and includes long captions, so have a look at the archived version.
'Sagmeister shows Style'
by Liz Farrelly
Form, 178, March/April 2/2001, pp.60-65
Sitting in his glass-walled live-work studio in downtown Manhattan, Stefan Sagmeister offers me a cup of tea and the opportunity to browse through a brick-thick mock-up of his soon to be published anthology. Undoubtedly pleased with his effort, which represents Sagmeister's life and work, the prankster/pragmatist is keen to point out that "Sagmeister made you look" isn't yet another self-indulgent hagiography or one-liner concept squeezed from the Mac of a super-star graphic designer.
Never talk about it again
"I'm having a year with no clients," explains the 38 year old Austrian who has made New York his home, "and it felt like a good time to sum up what I've done so far, then we never have to talk about it again." After a false start generating his own text, Sagmeister partnered with writer Peter Hall, "…and we both said let's be as critical about this stuff as possible." The result of their extensive chat sessions is, in Sagmeister's words; "A show and tell book for young designers and students. But, that traditional form of graphic design book is out of favor now, everyone is making experimental books, there's so many of them!" Citing an inspirational moment about four years ago when he saw both Fuel and Tomato's first books ("Pure Fuel" and "Mmmskyscraper I love u") [I commissioned and edited both for Booth-Clibborn Editions], he adds; "It's OK for someone to be experimental if the book measures up to their experimental projects in other fields." I ask Sagmeister if he has any heroes. "Storm Thorgerson of Hypnosis," he replies without hesitation. "He's the reason I became a designer."
Music is Freedom
A keen music fan, Sagmeister tellingly admits, "I've been in horrible bands," and when pressed to explain why designers are so often music-lovers too, adds, "…music has strong emotional content but without visuals, so there is the freedom to imagine." Learning from his early idol's designs for rock legends Pink Floyd and Led Zeppelin, Sagmeister was impressed that "Hypnosis were so variable, they used a different approach for every project," and, mentioning another great influence on his career, adds, "…Tibor Kalman wasn't so far away Storm. He would also start with an idea and choose an appropriate execution." Sagmeister worked briefly for Tibor Kalman's New York based agency M&Co in the early-90s.
At least it's paying Crap
"Considering I only lasted six months, I learnt a lot, especially, how good Tibor was at selling ideas. That was the main reason M&Co did great work, because the great ideas didn't get watered down by marketing departments. Before working there, I hadn't been aware of that." A tip he took away with him was to always try and get personal with the most powerful person involved and deal with the CEO rather than the marketing department. Equally as important is the presentation, which required a particular seduction technique. "Showing a little ankle! You should have seen some of the presentations Tibor did for a new logo," he reminisces. "Unbelievable! Much better than the logo…" [See my book about Tibor Kalman: Design and Undesign, the result of long days interviewing Tibor in his New York apartment followed by even longer nights on the phone fielding his corrections when I was back in London]
After setting up Sagmeister Inc. in 1993, the erstwhile fan decided it was time to indulge his passion and work more consistently with the music industry. In the past he's declared; "What I like most about designing CD covers is to come up with ideas simply by listening to music," and that's how Sagmeister Inc. would begin a process that generally took up to three months. He kept his studio small, just himself, a graphic designer colleague, Hjalti Karlsson (who recently left to start his own studio), and an intern (generally from Europe). But with the help of a few corporate clients to ease the cashflow, "if it's crap at least it's paying crap", he's managed to attain what many designers would agree is an enviable position: working with a number of high-profile but sympathetic individuals.
Through his work with Lou Reed and David Byrne, who he cites as "best clients", Sagmeister has also had several opportunities to jump media. About directing a Lou Reed video he recalls; "We really get on and there's a trust there…but I was scared shitless and brought a friend along to make sure the camera cap was off." Working with David Byrne on his recent book he recalls; "He's extremely visually literate. We would argue about how to do something and I'd win, but then I'd try his suggestion and it would be better."
No Fear of Fart
Surrounded by inspiration he had no time to experiment with, and aware of creeping repetition and escalating stress levels, Sagmeister took a brave step last summer and decided to "…have a year with no clients and send myself back to school." Needless to say he's loving it, and contemplating extending the exercise for a second semester. Having time to contemplate, the man who declared "Style is Fart" is enjoying a few revelations. "Graphics needs great content, form AND style, because the outward appearance of a thing has to be appealing in order to entice communication," he explains.
"I had never admired people who developed a style and stuck to it – I preferred Warhol to Lichtenstein because he was more flexible. I was thinking all about concept and the rest we could do in a hurry, and some things came out cold…and shallow, because we would use an approach once and would never do it again." Citing his development from using scratchy handwriting to actually incising text onto skin, he adds; "Now I treat each project with respect, but also stick with a style and progress it."
Not afraid to keep experimenting, Sagmeister is, however, reticent about the future for music graphics. "I love large distributions, that's why I work in music. But downloadable music seems so disposable." Well aware of the power of technology to aid mass distribution, the former Creative Director of Leo Burnett Hong Kong admits, "But I would like to design 'The Simpsons' of corporate identity."