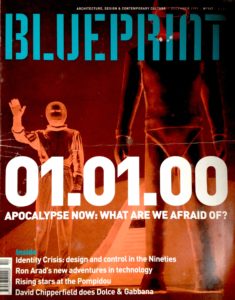 The outpourings of unease, dread and fear that recent political events have caused reminds me of an earlier era, 1999 (although back then we were asked to party too). The run up to the Millennium witnessed the kind of end-of-days headbanging practiced by religious zealots since the Middle Ages, spiced with a dose of fin de siècle decadence and topped with the techno-paranoia of the Y2K Bug and the predicted meltdown of communications, power and defence systems worldwide. With the Internet still in its infancy and social media merely a glint in its circuitry, hysteria was polarised. Mainstream media presented experts and button-holed politicians while conspiratorial survivalists used grass-roots networks to challenge official messages meant to placate the public.
One media practitioner commanding attention was Kalle Lasn not because he peddled doom-laden prophecies, although he was angry, but because the magazine he had launched a decade before seemed to (now) perfectly fit the zeitgeist. Adbusters gave a message of resistance and not from a place of despair. It advocated for urgent action using the incendiary power of the image, documentary and manipulated, while retaining a stance of positivity, and the look and feel of the magazine – colourful, glossy, eye-catching – helped promoted that can-do, future-focused message.

As a part-time resident of Vancouver, I suggested writing a profile of the head-guru himself, and my long-time collaboration with Blueprint magazine felt like the right place for it. Graphic design and the printed image were central to Adbusters' approach and appeal, and it had already found an intrigued audience within the design community. Lasn was instrumental in updating the First Things First Manifesto 2000, having reissued the original version before involving the design community in the idea of an update (as explained in Eye, here).
On meeting Kalle Lasn I was impressed by his down-to-earth, practical attitude. Here was a person making media on a small scale, running a local business with global impact, and he was funny and kind and had all the time in the world to talk. Having lived and worked around the world, his life experience afforded him a longer view, even while engaged in the very grounding day-to-day activities of producing serial media (something I was familiar with as a writer and editor working for independent publishers). That might be a reason his message and magazine speak so well to designers, whether they are engaged in commercial, educational or cultural work, or (most likely) some mix of all three at different times in their lives. That Kalle Lasn is a polymath, able to shoot film and edit text, was also significant. Using all the media's tools and toys he had pushed beyond disciplinary silos, taking ownership of the means of producing media across formats. In a time when media is once again under threat, Adbusters continues to demonstrate what can be achieved by independent means, and that is why I've delved into the archive to reprint this interview here. Unlike many magazines, Blueprint has not been digitised and is not online. At least now this article is back in circulation…
"Profile: Kalle Lasn"
by Liz Farrelly
Blueprint
No.167, December 1999, p.10-11
Standfirst: Kalle Lasn, Editor of Canadian magazine Adbusters, is a Post-Modern revolutionary. Now, in a new book, he has set his sights on the heart of corporate culture. Liz Farrelly met him.
If you haven't seen Adbusters magazine, go track it down now. If you're interested in starting a revolution go read, Culture Jam, The Uncooling of AmericaTM, a new book by Adbusters editor Kalle Lasn. In it he throws down the Situationist gauntlet before corporate culture. Sceptical? No doubt, but Lasn is pretty convincing. For the past ten years he's been going after the industrial mega-corps responsible for depleting Planet Earth's "natural capital" without a thought for the future; in other words, the global brands that sell us fast cars, fashion and food, and the mass entertainment which is destroying cultural diversity. He's also particularly upset with one voracious brand, USA Inc, a nation he says saved the world in 1945 only to play the bully, his logic being, "If you pick a fight with the biggest boy and win, you've won".
Intrigued and finding myself in Vancouver, British Columbia, home to Adbusters and Lasn, I went looking for this self-proclaimed Post-Modern revolutionary. I found him at the Adbusters Media Foundation in the basement of a wooden Victorian house. From here a team of culture jammers publish a magazine, update a website which includes various downloadable campaign graphics, and run the Powershift Advertising Agency, producing "uncommercials", for initiatives such as Buy Nothing Day and TV Turnoff Week. Adbusters currently has a circulation of 60,000, but Lasn is aiming for a higher profile, more akin to say, The Face or Details, so as to redress the imbalance of consumerist ideas propagated via the mass media. By marrying grass-roots activism with top-down "media-bombs", in what Lasn describes as a "pincer movement or culture jam", he's confident that a cultural revolution can be waged and won.
Lasn turns out to be a smiley, super-impassioned person whose past experiences have provided him with a rarefied ability to detect bullshit, take stock and embrace change – all necessary attributes if you're going to start a revolution. Born in Estonia a few years before the Soviets marched in, it wasn't until he was aged 12 that he got to see life outside a refugee camp, having made it to Australia with his family. As a Mathematics graduate he spent three years paying off a government study loan by programming war-game simulations for the Defence Department. Yearning for his roots he boarded a boat for Europe, stopped in Tokyo for three days, walked into the mid-1960s economic boom, and stayed for five years.
"I wrote a brilliant little piece of market research programming, the first in Japan to analyse huge surveys in 24 hours", recalls Lasn. "The first thing all those western companies who were moving in did was conduct a survey, so I made lots of money. But I found these cool, dynamic ad execs to be ethically neutral – they didn't give a shit whether they were selling cigarettes, booze or diapers. That offended me. It was one of the moments in my life when I suddenly realized that this beautiful world I was so happy to be part of was rotten at the core. So I took my money and ran".
After two years travelling the developing world, he ended up down and out in India – which further politicised Lasn, as did "a few brilliant films of the time", and he decided to become a film-maker. "I thought that if I could learn to communicate on the level of The Graduate, that would be something!" After marrying his Japanese girlfriend, the couple emigrated to Vancouver to investigate the work of Canada's National Film Board. A film commune amassed and Lasn and co taught themselves to shoot, edit and process, producing films which he describes as having a cultural, social edge. Seeking a wider audience than their Sunday night screenings the co-op produced a 30-second film for TV "to blow people away" and Lasn set off to buy airtime from the CBC (Canadian Broadcasting Corporation).
"They just laughed saying 'we don't know what it is you're showing us, but it ain't a commercial'. That had an influence on me because I thought, 'what's going on here, I've got the money and something to say, so what's the problem?' The idea that if you produce something truly provocative and then insist on the right to buy airtime, that's a powerful win-win strategy. I kept thinking that when the right moment comes along I'll actually do it".
In the meantime Lasn made documentaries for the National Film Board including a series of six films on Japan which aired on 250 stations across North America's PBS (Public Broadcasting System). "After making about 12 films I started not to like it anymore. The film would be shown and then, nothing. It was a non-event. So I had the idea to make 30-second documentaries to say what I wanted without any interference, and to air them on exactly the programme I wanted. Then, in 1989, an opportunity presented itself when the logging industry in British Columbia aired a C$6 million ad campaign saying it was doing a great job managing the forests. We knew that was a blatant lie and came up with a spot telling the other side of the story. I took it to the same CBC bastard as 17 years earlier who said it was too controversial to air. But now we were wiser and played the media. People got angry about the one-sided view on offer and the CBC relented by pulling the original ad. It was an incredible loss of face for the province's biggest industry and a turning point in the battle between loggers and environmentalists".
Lasn credits that initiative with giving birth to Adbusters et al. "We put out a newsletter and I suddenly felt a new excitement. There was something politically potent about it". The longer lifespan of a magazine and the feedback via letters and the Internet has proved to be an effective lobbying tool. Instead of Lasn's message going one-way, out through the tube, Adbusters provides material for grass-roots campaigns to the previously disempowered. Adbusters' subverted print ads and TV uncommercials (both of which are available via the website) ridicule and shame the opposition so as to "get consumer culture to bite its own tail". These tactics came from the anti-smoking ads of the 1970s which curtailed the tobacco industry's promotional activities – by comparison, their lies appeared so idiotic that the corporations pulled their own ads off TV.
You can see the influence of Lasn's film-making career on every page of Adbusters. A critic of the old left, Lasn is "anti-dogma and anti- text text text".
"I knew the magazine had to be visually driven because I am. It's like a film and flows like one story. We're operating on the comic book level so you get it even if you don't read", he explains. Good ploy in the era of information overload and ADD (Attention Deficiency Disorder). With the help of art director Chris Dixon [profiled in Eye, here], Adbusters is reaching the sort of audience that wouldn't give Socialist Worker a second look. They're also young and active.
Meanwhile Lasn continues to battle with the big three TV networks, ABC, NBC and CBS, who refuse to air his uncommercials (CNN capitulated after a Wall Street Journal reporter put them on the spot). Lasn is looking for a lawyer to help him challenge the black-out in the World Court. "Article 19 of the Universal Declaration of Human Rights guarantees every individual the right to receive and impart information. It's the human rights issue of our time", he explains. I ask him if he's a pessimist. "No, I think the situation is more positive than at any time in the past 20 years. We know who the enemies are and they'll have to pay up, just like the tobacco companies have. I'll eventually bomb my way into TV and slay some dragons – I can smell the blood".
Culture Jam, the Uncooling of AmericaTM by Kalle Lasn was published in January 2000 by William Morrow.