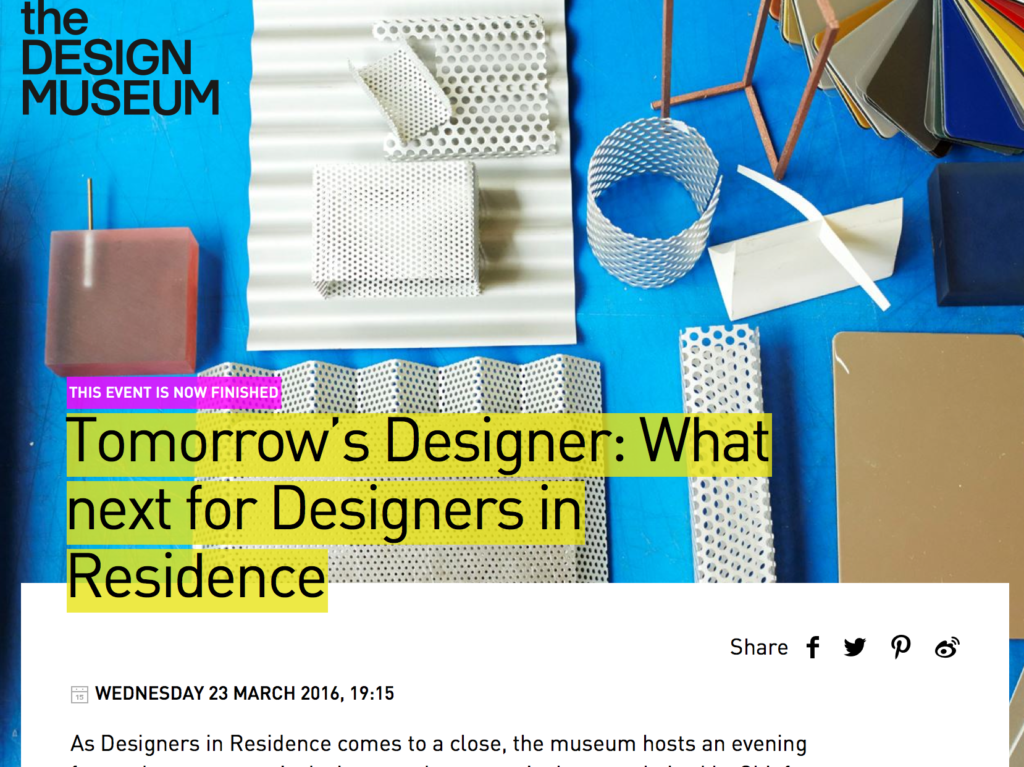 Tomorrow's Designer: What next for Designers in Residence?
Design Museum
Shad Thames, London SE1
23 March 2016
Chair: Justin McGuirk, Chief Curator, the Design Museum.
Speakers: Indy Johar Co-founder of Architecture00; Gem Barton Course Leader in Interior Architecture, University of Brighton; Ineke Hans of Studio|Ineke Hans; and Asif Khan founder of architecture studio Asif Khan Limited.
The opening of the new Design Museum, its latest incarnation, is getting closer, the stand-alone shop on High Street Kensington launched this week, and the main Museum building will be unveiled in late November. Right now, the Design Museum in Shad Thames is closed. So here's a review of the last event I attended, back in March, which discussed the "designer of the future" with reference to the Museum's Designers in Residence programme.

I'm particularly interested in the Design Museum's series exhibitions, those staged every year or so, which include Designs of the Year, and Designers in Residence (DIR). They grew out of earlier initiatives and have evolved into the current formats as parameters and expectations have changed; in the design industry, in regards to how design is defined and changes in the way design is mediated and critiqued. So it might be argued that these series exhibitions reflect how design as a business and a process operates and functions, and how a wide range of stakeholders perceive design. Because each exhibition covers a particular time span, they also present issues, trends, obsessions, innovations and technologies that are current at that time.
Another reason for examining these exhibitions is because they build community around the Museum: from the young graduates that receive financial and professional support; to the world-wide network of design aficionados invited to nominate (me included); and the designers, agencies, studios, practices, clients and manufacturers invited to exhibit, who contribute their time and effort towards organising and promoting the exhibitions. These series exhibitions help to extend the reach of the Design Museum and make friends, and the Curatorial, Learning and Events teams are key players in that outreach process.
That rationale aside, this evening's event didn't dwell on the Designers in Residence initiative, although the panel included an alumnus of DIR, but that is in no way a criticism. Instead the event focused on exploring what a designer of the future might be and do. The panelists shared their experiences of pushing the boundaries of the discipline by evolving new working methods, and urged young designers to adjust their expectations of a design career; design practice is what you make it. The event was chaired by Justin McGuirk, Chief Curator at the Design Museum, and he began by asking the panel to talk about the "future designer"…
Indy Johar suggested that designers wouldn't work to commission, but will raise funds and be stakeholders in a project. Thinking about design as an organism rather than an object, which combined community and technology, is open and social, is additive and not the work of a single "hero", and that requires a whole raft of skills, might be a good start to re-defining the job and the process. He talked about design being a "nudge engine", creating positive and negative bias that must be accountable as it can effect behaviour as well as economics, and therefore ethical integrity is necessary. He went on to say that design is about "hosting movements", being the interface between various disciplines and multiple actors, bringing people together. The role of the designer is as a protagonist within this "living organism", rather than thinking about design as a static, finished, final object. Words to remember: ethics, skills, hosting and collaboration.
Gem Barton, Course Leader of Interior Architecture at University of Brighton, described her new book, Don't Get a Job…Make a Job: How to make it as a creative graduate (Laurence King Publishing, 2016). This is a practical guide for graduating designers who, once out of college, realise that the number of designers far outweighs available jobs…the best solution being, become an entrepreneur and create not only your own job, but start a business and create jobs for others too. This book is now on my reading list; it's packed with inspiring case studies and interviews.
Gem also talked about the realities of design education. She wants to see students take more responsibility for their progress, widening their skill set, practicing "critical thinking" and not being bound by their discipline. Pushing the boundaries might translate into challenging the expectations of the design and creative industries. Critical thinking means making a forensic analysis of the now, of what already exists, of what we think we know, so as to imagine a still-becoming future. By "making a job" designers can respond to change more quickly. Reading from her book, Gem mentioned "graduating into a recession"; that, of course, is nothing new… But she reiterated that employment is just one possible system and to explore other strategies, inspired by creative trailblazers. Then she reminded us to be open minded; people further along in their careers have a responsibility to tomorrow's designers…we are all teachers.
Ineke Hans talked about self-initiated projects; she set aims for each new project and then assesses how they have furthered her career. Her series of Black projects was an attempt to become more "graphical", to produce objects that sent out signals while exploring and solving manufacturing problems. The project also aimed to stretch social behaviour, and did, by prompting strong reactions; some objects were collected by the Stedelijk Museum and so will be displayed and seen by a wide public.
Ineke told us about engaging different publics – end-users, makers, clients, fellow designers – and to that end set up the East London Studio Salons, which also highlighted the fact that Ineke works in two locations, London and Amsterdam. Ineke stressed the need to be flexible about living and working arrangements and prepared to travel when opportunities and projects arose, but to make connections within a community of peers. Ineke's Salons demonstrate the "active role of the designer" – connecting, talking, sharing, collaborating, researching. Going further afield, her involvement in Fogo Island Inn in Canada represented another set of connections, with client, locals – who became makers and co-designers of her furniture range – and with other designers on the team, all working to create a unique and welcoming place, a resort hotel that aims to sustain a remote island population.
Asif Khan suggested that getting involved in teaching is a way to give back to the profession by broadening the imagination of student designers. He encouraged practitioners to get into education in order to force change. Having been part of the DIR programme, exhibiting in 2010, Asif had first hand knowledge of the scheme's process and remembered it as an opportunity to incubate his practice, encouraging a broader approach without the pressure of job or client. Justin asked, "did DIR change your practice?" Answering for himself and his studio Asif recalled: "We had to invent how we work, and each project teaches us something about ourselves. We said, no competitions, just commissions, research and self-initiated work. In the end we compromised and entered competitions, but we also teach in order to learn from each new generation and try out ideas in the studio". He went on to suggest that adaptability is the fundamental skill a designer needs, but design education isn't teaching it.
In the discussion that followed Justin recapped the speakers' comments and introduced the next DIR theme, "Open", which is appropriate as the Museum reopens and rethinks its role for the 21st-century. He talked about a "system of post-industrial design" and that the challenge for designers of tomorrow is, "how to self-initiate and make a living". Gem added, "how do you define making a living?" and suggested that solutions will vary throughout a career and be different for everyone. Ineke asked us to step back for a moment and reflect on "why are we self-initiating projects?"
Indy added that he didn't much like the phrase "self-initiated", suggesting that it was "too small, it won't change the world", and that the challenges we face are "bigger", but design skills are able to synthesis complex issues and we should be aiming to "make a dent in the world" rather than "micro-interventions". He exclaimed that how we discuss design is crucial, "get rid of the 2006 language" and move away from the commissioned/self-initiated dichotomy.
Ineke clarified that in the Netherlands designers have gone beyond that mindset because the "in-house teams were doing all the work, and Milan is a bankrupt system, a big black hole for young designers", meaning that ideas get sucked in but jobs don't come out! She added, "…as designers we have to work in a wider arena, complexity is the best thing".
Indy reiterated that language is inhibiting our capacity to be radical because it frames our expectations. Justin added that he didn't want to jettison the "object", saying that when he sees Ineke's objects, "I realise how open to interpretation the object is". Ineke added that in Fogo, for instance, she defined a system, a structure, a narrative, and the objects resulted from that. But that, in effect, all design is a system, manufacturing is a system too; see the supply, assembly and distribution chain of the Apple iPhone. She went on to discuss the importance of location, citing London's "talking designers" as the product of a lack of studio and workshop space. Having no place to make creates an information overload. The result is "a freeze", we observe rather than act.
A question from the audience asked, "but will a designer end up as a jack of all trades and master of none; should we just go out and get a job or continue our education?" Indy replied: "…that's not the point; it's about being bold, not replicating, being confident, getting practice…build, explore, expand your capacity". And on a practical note about networking; get involved, do stuff and get it out there, because it's more likely that you'll get a job on a recommendation than because of your CV.
Fascinating, inspiring and thoughtful, and well attended – a full house.