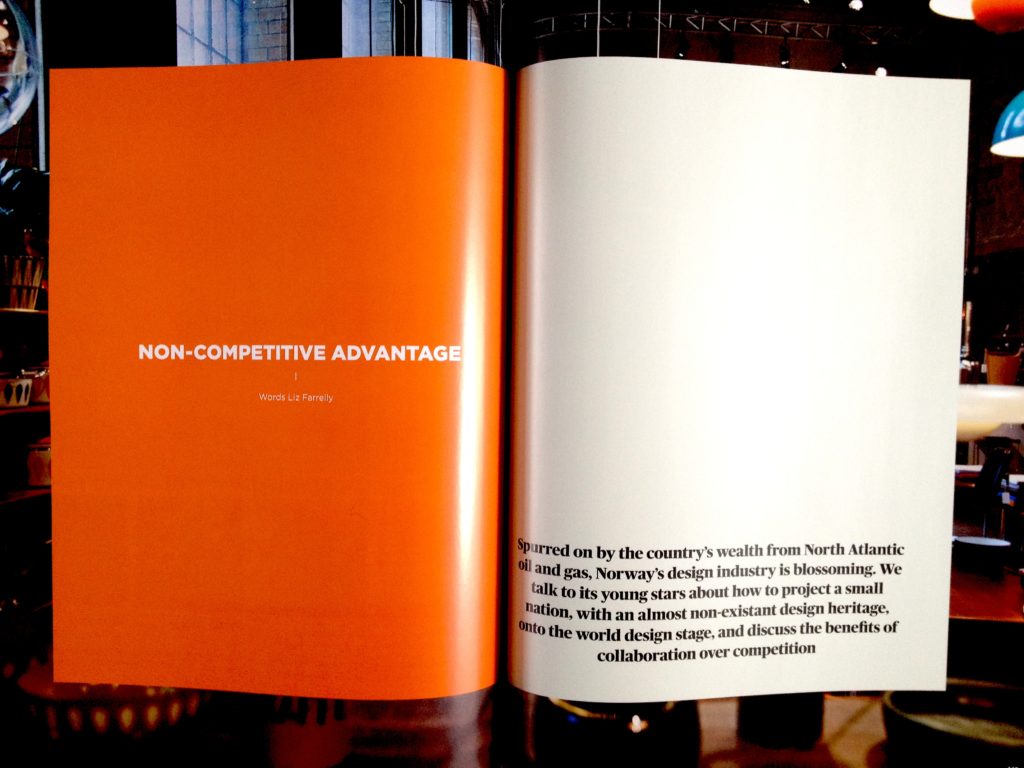 "Non-competitive Advantage"
by Liz Farrelly
Blueprint
No.336, pp.148-164
On the occasion of an exhibition promoting Norwegian design in New York, here's an article from my archive, "Non-competitive Advantage", available on DesignCurial. Originally published in Blueprint magazine, I wrote it after a snowy trip to Oslo in February 2014, organised by the Norwegian Embassy in London and hosted by DOGA, the Norwegian Centre for Design and Architecture. A group of European journalists met and mingled with Norwegian designers, and as well as seeing and hearing about new work the big surprise (for me) was the Norwegian government's commitment to promoting Norway's nascent design industry.

Back in the UK the effectiveness of design promotion has been questioned; the embattled Design Council, suffering from an identity crisis exacerbated by ideological manoeuvring and a long drawn-out attempt to curry favour with successive governments, has been criticised by both designers and manufacturers. The long-standing remit of design promotion — to point industry to the miracle cure that is design, with its promise of stimulating exports, reinvigorating national industry and equalising the balance of payments — seems naive and unrealistic. By contrast, in Norway's case it is the design industry itself — a small but perfectly formed community of collaborative firms and individuals — that is being promoted. Exhibitions at annual industry events around the world have raised the profile of Norwegian design; now clients, buyers and consumers look to Norway for fresh ideas and product-based solutions for contemporary needs, and in the process Norway has upped its cool quota.
A Few Good Things
WantedDesign
Terminal Stores Building
269 11th Ave, West Chelsea
New York, USA
13 to 18 May 2016
This exhibition was curated by Paul Makovsky, editor of Metropolis magazine, as part of NYCxDESIGN, New York City's annual celebration of global design. Makovsky refers to "peak furniture" (a term coined by Steve Howard, Head of the Sustainability Unit at IKEA) and sets the scene with a statement that sounds about right in the context of American consumerism: "At a time when all have too much stuff…our everyday lives are overcrowded with 'things'". A Few Good Things offers an alternative: "We need fewer but better objects in our daily lives". The prototypes and products displayed are by designers who "place sustainability at the heart of their practice, creating long lasting works with an emphasis on functionality and clean, simple lines".
Not to deny the issue of over-consumption, but bringing such a message to an American audience at a design festival, and suggesting that more "stuff" might solve the crisis, might be heard as doublethink. But, on a fundamental level, prompting a paradigm shift in our attitude to objects could be a way out of this; and I'm sure multinationals, such as IKEA, are examining these strategies. Objects excite a range of emotions, from attraction (purchase) to boredom/repulsion (disposal), but expectations can be re-programmed, and this is what A Few Good Things suggests. So instead of the quick fix and the long languish in a land-fill, objects might build emotional attachment, enabling longevity of use (as circumstances change) via flexi-/multi-functionality, and reconfiguring notions of wear and worn-out by facilitating durability and patination via traditional and high-tech materials.
Sadly, I'm not in New York to see the show, but am basing these comments on press information kindly shared by Sabine Zetteler of Zetteler Creative Publicity, along with knowledge of featured designers, some of whom I wrote about in Blueprint, back in 2014.
A Few Good Things features Anderssen & Voll, Andreas Bergsaker, Fimbul, Kristine Five Melvaer, Lars Beller Fjetland, Noidoi, Runa Klock, Sara Skotte, Sverre Uhnger and Martin Solem.