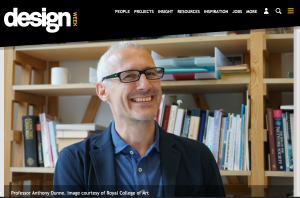 With the news last week that Professor Anthony Dunne, Head of the Design Interactives programme, and his partner Fiona Raby, a founding member of CRD Research Studio and a Senior Research Fellow, are stepping down from their roles at London's Royal College of Art at the end of the 2015 academic year, I've looked back through my archive of design magazines and found a couple of interviews with Tony. Now Fiona and Tony plan to concentrate full-time on their joint practice, Dunne & Raby, which has brought us, among other memorable moments, the "design fiction" United Micro Kingdoms (in exhibition form at London's Design Museum), reviewed here.
Part One
"Loewy's Children"
by Liz Farrelly
Blueprint
No. 76, April 1991, p.44-47
Standfirst: As the Design Museum celebrates the father of industrial design, Michael Horsham assesses its history and Liz Farrelly looks to its future (profiling five young(ish) product design practices)…
Tony Dunne's intrepid move to Japan, after graduating from the RCA, led him to a full-time job at the Sony Corporations's Design Centre. Being one of only two western members of a design staff over a hundred strong, and being expected to develop ten products a year, Dunne has been exposed to a rate of technological change, and social and cultural differnces, that have profoundly affected his view of product design. Using this as material for a redefintion of perception and information, he has come up with a product aesthetic that attempts a "mapping of the void".

The current revolution in personal computer hardware and software still apes the business environment, demanding a linear, language-based method of inputting. But Dunne, whose work in Japan has allowed him to look further ahead, sees a future of wearable technology for creative people. This enables the senses to interface with the environment and absorb information through non-literary means via semi-permeable membranes. Playback is via three-dimensional projection. The technology exists: Dunne has used it at NEC.
He is now back in the UK permanently, and collaborating with the architect Toyo Ito on an installation for the V&A's Japanese Festival, to be unveiled in September.
Part Two
"Profile: Anthony Dunne"
by Liz Farrelly
Design Week
Vol. 20, No. 23, June 2005
For a designer just into his forties Tony Dunne's CV is very impressive indeed; at over eight pages it lists, among other achievements, a stint designing for Sony in Tokyo, teaching gigs at the Architectural Association and Bartlett School of Architecture, talent scouting for NESTA, an editorial consultancy with MIT Press, projects exhibited at Paris's Pompidou Centre, London's ICA and the Science Museum, as well as objects included in the Victoria and Albert Museum's permanent collection. Trained in Industrial Design at Dublin's National College of Art and Design, Dunne received both an MDes and a PhD at London's Royal College of Art. Having taught at the RCA since 1998 he's now been made Professor and Head of Department of Interaction Design.
Dunne's CV, however, only hints at the diversity and depth of his career to date. A founding partner of Dunne & Raby – with architect Fiona Raby – their work deals with some of the most enigmatic concepts and approaches under investigation in the field of design today. Consult the website and you'll find a no-nonsense mission statement; they aim to "use products and services as a medium to stimulate discussion and debate amongst designers, industry and the public about the social, cultural and ethical implications of emerging technologies". That those technologies include nano- and biotechnology, genetics and electro-magnetism, and that Dunne & Raby are as concerned with the psychological effects of domestic objects as with aesthetics and function, point to the far-reaching scope of Dunne's research.
Engage Dunne in conversation and you'll be impressed by his enthusiasm, wit and ability to explain the most complicated ideas in accessible terms. His sense of humour, unsurprisingly, verges on the surreal. See, for example, on the Dunne & Raby website, their contribution to the V&A's Summer Fete back in 2003. One of their fantastical offerings was a bathroom-object-puppy-hybrid, a cruel but cheeky cross of the Andrex icon with a loo-brush (the puppy part being played by a stuffed toy rather than the real thing!)
That Dunne is an experienced teacher and lecturer is obvious from his skill at communicating. But despite his long-term association with the RCA (most recently he taught a unit with Durrell Bishop in Design Product) Dunne wasn't headhunted for his new job. He applied when the post was advertised: "I had been thinking of writing a new course, so I presented the interview panel with some ideas for change, and they accepted me".
"I want to broaden the scope of the Interaction Design course", he explains, "and change the centre of gravity between computing and electronics to make room for multiple approaches, so we're not only dealing with applications but with implications too. Computing is central to the course, but our relationship to computers is changing, simply because these days all kinds of products have computers embedded within them".
Ask about other changes he'll made to the course and Dunne replies that it's early days; and as staff and students are now busy with degree show projects it's likely that new initiatives will be announced during the summer break. But when pressed on how he hopes to widen the range of technological expertise on offer, Dunne is happy to explain. "We'll be connecting with other institutions; we've got Imperial College right next door and already students have set up funded research projects with colleagues there. If students need to source expertise out in the real world, I expect them to go find it". He'll also be encouraging students to create collaborations across courses within the college.
Interaction Design currently accepts students from a range of academic backgrounds, from art and design, the sciences and humanities. Crucial to the success of Dunne's new plans at the RCA is the selection of willing students. So what kind of newbies will Dunne be looking for; "…highly talented people with a passion for exploring how technology impacts everyday life" he explains, "and who can use design as a medium to make such issues more concrete and communicable; people who really want to move design on and get involved, rather than sit on the side-lines making pleasant distractions".
Note on archiving design journalism….
If you'd like to know more about the V&A's Japanese Festival in 1991, there is a pdf about the project, extracted from Experience by Sean Perkins, available on Dunne & Raby's website. (Experience was one of the first books I worked on at Booth-Clibborn Editions). The exhibition is also included in the National Archive of Art and Design; make an appointment via the V&A's website.
When I went to look for these articles I discovered that the recent redesign of Design Week's website makes it difficult to search for and find articles and mentions in back issues. Where previously you could type in a keyword and lots of articles would pop up in a text list with links to articles that were available to download, save and print as full articles. Now, articles are displayed in an "Instagram" mode and offered as "inspiration", but there is no way to search by keyword, and articles offered as "More Like This" are way off topic (so that algorithm needs tweaking). As a long-term contributor to Design Week, it is now difficult to access my work and find evidence of my more decade-long contribution. I still have paper copies of some articles, but not all! There is a lesson to learn here…archives are not permanent nor immutable, neither paper nor digital, whether commercial, personal or institutional. Look out for more posts about archives…