Pick Me Up: Contemporary Graphic Arts Fair
Somerset House, London WC1
24 April to 5 May 2014
Review of Music x The Graphic Arts panel discussion at Pick Me Up 2012
23 March 2012
Over the years at Pick Me Up, the importance of getting visitors involved in workshops and events has become more and more central to the whole project. By Pick Me Up 2010, Somerset House Curator, Sarah Mann, had responsibility for programming the vast and varied offering, from academic conference to kid's weekend. She invited me to co-organise and chair a panel discussion examining the role of Illustration and Graphic Design in the music industry, tackling such issues as how the packaging and branding of music and bands has changed as digital delivery rocks the edifice of corporate control and a DIY spirit emerges. The speakers brought a range of expertise to the discussion, drawing on their experience working with music, from the late-1970s to now. The review below first appeared on Eye Blog.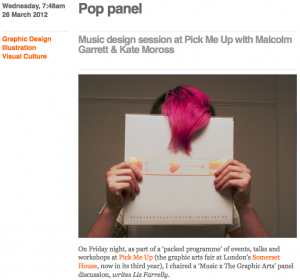 Wednesday 7:48am, 28 March 2012
Pop panel
Originally published on Eye Blog
Music design session at Pick Me Up with Malcolm Garrett & Kate Moross
On Friday night, as part of a "packed programme" of events, talks and workshops at Pick Me Up (the graphic arts fair at London's Somerset House, now in its third year), I chaired a "Music x The Graphic Arts" panel discussion. Since the digital revolution of the 1980s, the music industry has undergone radical changes in formats, distribution, style and substance.
The panel: designer Malcolm Garrett (Buzzcocks, Duran Duran); critic (and Varoom editor) John O'Reilly; the prolific Kate Moross; and Tom Oldham (label boss at No Pain in Pop and Berserker, an online music/comics magazine).
Malcolm kicked off with his schoolboy Hawkwind obsession, which led him to Barney Bubbles. Highlighting the polarised nature of Britain's tribal counter-cultures in the 1960s and 70s (naming IT and Oz magazines as "the birth of blogging"), he suggested that with Punk, "it all changed". Later, in the 1980s, the zeitgeist was celebratory; the music industry sold lifestyles, with video and "merch" paramount, and the first sponsored tour was by Duran Duran, brought to you by Coca-Cola.

Malcolm and his cohorts can claim a string of firsts [but see comments below for clarification]: the first TV ad for an album (Duran Duran), the first pop webcast (Spice Girls), the first CD-ROM album (Peter Gabriel). Now it's all about crossover. He cites the giant trade-show-festival, SXSW, as barrier breaking; interactivity is all. "I'd like to link the counter-culture of late-60s to the digital counter cultures of today."
John O'Reilly (who had an previous career as a music journalist) stated, "Music is an early warning system for culture, society and commerce". What starts out in the nerdy, rarefied world of fans — file sharing, re-making bands in their own images (the gig poster phenomenon), launching micro-labels, breaking new acts online — has repercussions for the mainstream not too far down the road. John showcased image-makers creating "fantasy worlds", via obsessively contrived (in a good way) visual languages. Julian House's Ghost Box label approximates the British Modernism of Penguin Books, but his world is both a good joke and a dark place. Australian illustrator Dan McPharlin uses sleeve design to explore a "space opera" future, "quoting" Roger Dean's Yes albums of the 1970s. His intricate paper models of analogue recording equipment reveal an attempt to "own" a long-gone world.
John then explored the phenomenon of gig posters, and how fan-designers explode the careful branding of mainstream labels by reinterpreting their favourite brands in style after style after style. The White Stripes get it, embracing the visual diversity that slots them into so many subcultures. Without the Internet and gigposters.com, this global phenomenon may have stayed local, but digital communication has prompted an uptake of the hands-on, silk-screen print mode.
Kate Moross made her first gig poster aged nineteen, but adds, she then made up for lost time: before long her posters "were all over London". As a second-year Illustration student at Camberwell College of Arts, her street-level/MySpace fame ("Every new band with a MySpace page needed a logo. I was the Logo Machine") earned the commission of a lifetime; to re-imagine Cadbury. With the "loads of money" earned, she started a record label, Isomorph, the intension being to release vinyl, and lavish much care and attention on its packaging.
Then the collaborations began, and Kate found herself on the road, VJ-ing live graphics, teasing out a vision, with the band as muse to their designer. With a savvy business head, Kate realised that merchandise is the way to make money in the music industry, and set up her T-shirt firm. She designs and prints, the band buy some tees, she sells the rest online. Kate cites her DIY attitude and "mini projects" as prep for working with the "big time" music industry.
Tom Oldham is a man of many hats. Five years back, he discovered the electronic end of the New Cross music scene while still a student at Goldsmith's College. He launched No Pain in Pop with the proviso that "everything's got to look beautiful" and has built a label with a wildly creative reputation. He described the agony and ecstasy of running that label as, "lots of little deaths, lots of little births", and is credited with breaking new bands online by way of the label blog.
Having worked for the lobby group UK Music Oldham had a close-up view of how the music industry and government were resisting the online digital uptake, via the Digital Economy Act 2010. He quit, to work in a comic shop and now combines two obsessions, music and comics, in online magazine, Berserker. His parting shot was to suggest we are "living in an ontologically creative age". Everything we do is creative, thanks to all those means and media, at our fingertips, ready to make stuff happen. That thought left the panel, and audience, on a high.
A few comments were added, demonstrating the encyclopedic knowledge of music/design fans and practitioners, so I'm including them here.
Comment one
Liz Farrelly • 2 years ago
"Malcolm Garrett has pointed out that, in the heat of the panel discussion excitement, a few facts got muddled, and he's kindly put me right.
'Duran wasn't the first TV advertised album, but an illustration of how the marketing of music had swung around during the time in which I was working, from designing the sleeve first to actually producing the TV ad first.
The first UK pop webcast was actually Orbital from the BBC studios, for AMX [Malcolm's company at the time]. We didn't ever webcast Spice Girls, but our biggest events were Oasis from Loch Lomond and the Phoenix Festival both in 1997.
The Spice Girls was one of our best Enhanced-CDs. We did E-cds for at least thirty or more bands.
The Peter Gabriel CD-rom wasn't done by me, but it was one of the very first music CD-roms if not the first, and one I contributed to as interface designer.'
Thank you Malcolm for the extra info, and for putting the record straight (so to speak!)."
Comment two
Alasdair Scott • 2 years ago
"Actually, it was Orbital live from the Royal Albert Hall for BBC Radio 1. And Phoenix Festival was 1996 I believe."
Comment three
Liz Farrelly • 2 years ago
"Thank you Alasdair; can't get enough facts."