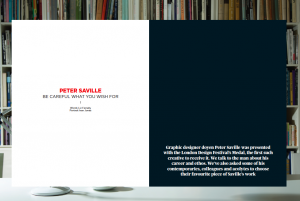 Interview, 13 September 2013
Published, Blueprint, issue 331, 10 December 2013
Interview: graphic design legend Peter Saville talks to Liz Farrelly
Further contribution by Paul West, Form
For as long as this interview is available on the Design/Curial website, I'll redirect you there; after that, I'll repost it. It was a pleasure to be commissioned by Blueprint again after a few year's hiatus. I worked in house from 1990 to 1994 beginning as Editorial Assistant, and writing from day one; I reached the heady heights of Deputy Editor, then freelanced under every editor until about 2006. Being asked to interview Peter Saville was the bonus; this is the third time I've had the opportunity to conduct a long interview with Peter, as well as having a few good chats along the way. He's a great talker and it shows in the two and half hour transcript! Peter was to be honoured with the London Design Festival's major award, which prompted the coverage. The award spiel mentions the winner's contribution to design in London, and I realised that Peter's amazing affect was as an inspirtion to and an incurbator of a considerable amount of graphic design talent that has gone on to make London the most important city in the world for graphic design. So, I asked around, and got a bunch of people to talk about their favourite work by Peter. Paul West had worked for Peter, and so I'm posting his contribution here as I couldn't get it to the magazine by the deadline. Thank you Paul for adding such a great further contribution to the story.
Paul West: Where to start with Peter's output. Who can't love FAC1; the "Unknown Pleasures" pulsar; the "Closer" tomb, photographed by Bernard Pierre Wolff with the beautiful Lapidary typography; the "Blue Monday" floppy disc, his Section 25 work — the list is endless. To even go on more is redundant, so well catalogued is his work (alongside designers including Martyn Atkins, Brett Wickens, Richard Smith to name but three) that it's entrenched in our popular counter-culture, in turn influencing culture.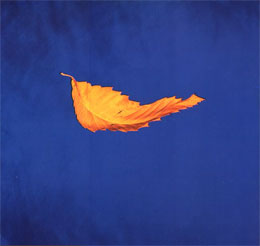 If I could name ONE piece of work I have loved above all other it is the fabulous "True Faith" 12″. This beautiful gold leaf suspended or floating on Yves Klein's "International Klein Blue" backdrop, with the absolute minimum of information on the back cover (Name — Title / bside — Copyright — the all important Fac183 catalogue number — pre barcode!) and the way it fused art, hi-tech, independent couture, anti-couture; it feels as new now as it did then.
In 1987 I wrote my college thesis on Peter Saville Associates and Vaughan Oliver (V-23) and as a result I got through the doors and worked at PSA '88 to '89. I remember asking Peter about this cover and I him saying that the expanse of white on the back sleeve made the front sleeve look like an art piece, with the back cover serving as the catalogue descriptor. I loved that. It was so Warhol.
Of course so much of Peter's great "visual" work is thanks to the genius of Trevor Key who had a studio space next door. I remember watching the exploratory work Peter and Trevor were doing for "Fine Time" and "Technique" and thinking how great it was, to be so progressive with such a spirit of discovery and invention, it was incredibly inspirational for a 20-something graduate. One day I was in Trevor's studio talking to him about his work and looking through a massive pile of old test polaroids (including, X-Ray Spex "Germ Free Adolescents") and I saw THE polaroid of "True Faith". l had to ask. "Can I have it?". "Piss off" came the reply. #legend.
From guest blogger, Paul West, Form