Thinking about fashion exhibitions, and the way that fashion designers and students use museums and galleries for inspiration, reminded me to re-post this account of a round-table discussion at London's Design Museum about Fashion Illustration, as a discipline, practice and commodity. This event was very well attended and super informative, and part of the programme around the Drawing Fashion exhibition, which I reviewed on Eye Blog, here, and reposted on this blog too, here.
Drawing Fashion
Design Museum
Shad Thames, London SE1
3 November 2010 to 6 March 2011
Drawing Fashion debate
5 November 2010
Another reason for reposting this now, is because Howard Tangye had an exhibition this month at the Hus Gallery, "Casting the Line"; the catalogue may be downloaded, here. I became an instant fan of Howard's work on hearing him talk at this debate, and when Stina Gromark and Louise Naunton Morgan of STSQ launched a Kickstarter campaign to fund the design and publication of a monograph of Howard's work, I was happy to contribute. The resulting book, Within — Howard Tangye is proof that Kickstarter is a very good thing!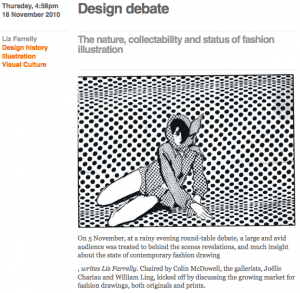 Thursday 4:58pm, 18 November 2010
Design Debate"
by Liz Farrelly
Originally published on Eye Blog
The nature, collectability and status of fashion illustration
On a rainy evening, a large and avid audience was treated to behind the scenes revelations, and much insight about the state of contemporary fashion drawing. Chaired by Colin McDowell, the panel included gallerists Joëlle Chariau of Galerie Bartsch and Charian, and William Ling of Fashion Illustration Gallery, who kicked off by discussing the growing market for fashion drawings, both originals and prints.
Chariau declared that finding an audience isn't the issue, but that finding the drawings is, as so much was originally made to commission. She recounted how, when she first opened her gallery, she prompted René Gruau to search his house and cupboards for "packages" of artwork, which he had never considered saleable.
Ling admitted that the collecting market is still nascent, much like the graffiti scene was a decade ago. But, he added, "the art market is starved of beautiful, hand-drawn work…when I show a new client the work, and explain it, it's extremely powerful." Both revealed that they sell to a number of fashion photographers, musing that they are attracted by what drawing can achieve, that photography cannot.

Featured artist François Bertoud was joined by Howard Tangye. A fellow practitioner, Tangye teaches at Central Saint Martins College of Art and Design, and his former pupils include John Galliano and Alexander McQueen. Questioned about teaching methods, he replied: "We promote the individual; at CSM we encourage whatever means each student wants to use." Tangye pointed out that many young practitioners are hand-making small publications and limited-edition prints for sale, echoing a similar strategy in the wider world of illustration.
Do-it-yourself initiatives are prompted, suggested Tangye, by a lack of outlets for fashion drawing; McDowell revealed that he asked three editors of British fashion magazines to join the panel. All refused, saying that drawing was "irrelevant" to their publications, and "the advertisers wouldn't like it". He suggested that the best editorial showcase for fashion drawing is Italian Vogue, edited by Franca Sozzani. "It makes less money than all the other Vogues, but it's the one that fashion insiders collect, because Sozzani does whatever she wants, such as devoting 40 pages to one story…"
Getting to the fundamentals of what is fashion drawing, Tangye declared: "To be a really good fashion illustrator you have to have the feeling of what the clothes are about. It's what you leave out; there's a lot of editing going on, before it goes on paper."
Bertoud outlined how his practice has developed. Having trained as a graphic designer, he worked for Italian Vogue and draw comics on the side. He hooked up with Vanity too, describing his early style as "reduced to the maximum". Using lino cutting he combined the simplicity of a bold, black line and bright colours. As fashion changed he explored transparency. Now, he explained, "I like to mix; draw by hand, scan, compose, redraw." The confidence and efficiency of his line comes via constant repetition. By tracing, redrawing and layering, a multitude of lines are reduced and refined to achieve an evocative economy of abstraction.
Finally, the panel was asked, what does a fashion drawing need to possess in order to live beyond the commission, and the printed page? Chariau recalled how she'd asked the same question of Irving Penn and Richard Avedon, with regard to why they include so few of their fashion photographs in later books. "Penn declared that they just don't live up to it." She added, "an image has to have more than it pretends to be, but I can't say why…It's subjective; the whole profession of fashion is subjective."