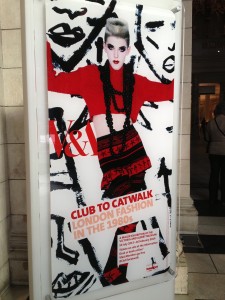 Club to Catwalk: London Fashion in the 1980s
Victoria and Albert Museum, London
10 July 2013 to 16 February 2014
Visited 18 August and 20 September 2013
This long running exhibition was hotly anticipated, but it was not without its flaws, which became more obvious, as I made two extended visits to the show, and thanks to my V&A Membership Card, countless quick pop-ins. Each visit brought more to my attention, and also made me wish for more…like a kid in a candy shop. I lived through this time and as a young Londoner was a regular at a wide range of night clubs from the rockabilly Gaz's Rocking Blues to the proto-rave of Delirium (I even worked at The Wag). I also shopped like it was going out of style (of course, it wasn't) and owned garments by many of the featured designers, picked up in their tiny Covent Garden shops, at Kensington Market on a Saturday and Camden on a Sunday, at Jones and Browns, and up and down the Kings Road. Most of those treasures are long gone as I gave piles of clothes away before going on a long trip in the late 1990s, and sold some of the choicer pieces. There are just a few frocks still carefully preserved… One of my students asked me what from my early 20s (her age) am I nostalgic about, and mostly it is these garments, as I try to recall particular outfits and what I might have looked like. Back then we didn't walk around with camera phones and there are so few photos of those nights out.
About the show…

First off, I can understand why photography is not permitted in a temporary exhibition that may contain objects lent by collectors; flash photography damages textiles, and curbing visitors' flashes is an inconvenience for staff and intrusive for the rest of us; BUT NO SKETCHING? What's that all about? The V&A was set up as a educational collection; Henry Cole's aim was to improve the skills of workers/designers and the taste of the public/consumers. He thought that boosting the quality of what was made in the factories and workshops of Britain would build an eager audience for good things, encourage economy growth and boost Britain's export trade.
These aims were to be achieved by displaying examples of good design (for a while alongside a rogue's gallery of "bad" too). How were designers to understand good design? By observing, drawing and "copying" those exemplar objects, as explained by Christopher Frayling in his lecture and book Henry Cole and The Chamber of Horrors: The Curious Origins of the Victoria and Albert Museum (V&A Publishing, 2010). Anthony Burton in his scholarly work, Vision and Accident: The Story of the Victoria and Albert Museum (V&A Publishing, 1999) questions whether this was actually ever going to work. (Please, V&A republish this seminal book as second-hand copies are so pricey). That said, successive generations of artists and designers have found inspiration among the V&A's vast and diverse collections; Barbara Morris's fascinating book, Inspiration for Design: The Influence of the Victoria and Albert Museum (Victoria and Albert Museum, 1986), provides unearthed documents and correspondence from the likes of William Morris to museum curators, pinpointing the very objects these practitioners requested and were invited to see in galleries and storerooms, to research and to handle.
And design students have been doing so ever since. From the first weeks of a student's Art and Design Foundation Course, the habit of museum going and object research, by way of drawing in galleries, is inculcated as good practice. A recent collaboration between curators at the museum and researchers, tutors and students from the University of Brighton (CETLD) investigates how design students (and Fashion and Textiles students in particular) use the museum now, and documents how they wish to expand interaction with the museum. Observing students in the galleries shows how they combine various ways of recording objects, spaces and their reactions to both, by way of drawing, photography and video; how they interact with databases and archives while in the gallery and later back in the studio; and how they delight in getting "back stage" to handle objects, to turn them over and see how things were actually made. A book of essays, edited by Beth Cook, Rebecca Reynolds and Catherine Speight, Museums and Design Education: Looking to Learn, Learning to See (Ashgate Publishing, 2010) collates this research, and while it is obvious that curators and educators have differing viewpoints, at no time is the thorny issue of NO SKETCHING even mentioned. Indeed, check out the V&A's comprehensive and "transparent" website where much is made of the museum's aim to cater to a wide range of learners — school-children, students and adults. But, I could find no pronouncement on what is either permissable or outlawed in the galleries regarding sketching.
That students eventually get jobs in industry means, yes, at some point professional designers will be in the galleries too, looking for inspiration. In the fashion industry that is a recognised part of the process; "what goes around comes around". Why then the ban on sketching? To protect intellectual copyright? How can that be, when so much of 1980s fashion, whether customised by "amateur" aficionados of various subcultures or the work of burgeoning designers (later to become the doyens of international brands and haute couture houses) was influenced by or "lifted" from so many sources; bricolaged, in the words of Dick Hebdige and his seminal explication, Subculture: The Meaning of Style (Routledge, 1979). Remember, we're talking about the heyday of Postmodernism, the 1980s, when PoMo lived, breathed and sported an improbable haircut.
Apart from restricting the usefulness of this exhibition to a large swath of its audience (by outlawing sketching), another downside of this show is the extreme lack of context. Perhaps due to the legacy of the museum's 19th-century connoisseurial tendencies, which organised the care of exhibits into "materials" departments, a temporary show such as this, which appears in a department's dedicated gallery, mainly consists of one genre of object, i.e. if it's organised by the fashion department, it's going to be 99.9% fashion. A mammoth reshuffle in 2000 created the Furniture, Textiles and Fashion Department, which is fine if you're interested in decorative textiles and the cross-over with upholstered furniture, and a well-contextualised exhibition could be produced by that one department. The combination of fashion and furniture isn't as improbable as it may seem; Penny Sparke in As Long as it's Pink: the sexual politics of taste describes how the housewife, her dress and her household decoration (especially textiles and soft furnishings) were all subject to changing fashions in the mid-19th century, encouraged by the new printed media, magazines aimed at middle-class women. Not much has changed then; consider the sister publications of Elle and Elle Decorator/Elle Decor, and the recent addition of homewares departments within fashion chains such as Zara or Kate Spade.
But when it comes to street fashion, the addition of a rich contextual soup of printed matter and multiple media is oh so necessary in order to make sense of what was in effect a multi-media, preformance piece — the designing, making, display, selling, wearing and reporting of fashion in clubs and on alt-catwalks. The burgeoning style magazines; the interplay of music and graphics with clubs and subcultures; the advertising, marketing and packaging of nascent fashion brands; the new wave of fashion photography and illustration; along with the garments, are all part of the story. Beyond just including "The Blitz Box", an A-V pavilion dedicated to one particular moment of clubbing history, this sort of context would have provided visitors with a richer experience, and a more informed narrative. I can only guess that much of this material is already owned by the museum, but within a different department, Word and Image; and never the twain shall meet.
In the downstairs gallery, which concentrated on garments from these nascent design labels arranged thematically behind glass, the few grainy photographic blow-ups of contemporary shoots could have been supplemented with a "family tree" of connections between the designers, their muses, the clubbers and entrepreneurs; or even a graphic timeline that would have helped tell the story. Upstairs, the mannequins were arranged by genre, which sort of missed the point too, as so much of 1980s fashion was about mixing it up. You might go to a different "one-nighter" every night of the week, offering a completely contrary musical/stylistic experience, because rather than aligning yourself too closely with any one subculture, you could demonstrate just how knowing you were by being able to "pass" from one to the other, with judicial tweeks of hair, make-up and outfit. Of course there were always purists, but they began to look preserved in aspic, as subcultural styles not only proliferated but started to cross-pollinate. Sartorial rules were broken as individuality asserted itself through re-interpretation, and there was so much raw material to play with. Underpining 1980s fashion was a mining of the past, as vintage and charity shops and market stalls offered items from the '40s to the '70s at affordable prices; plus, some of the high street just "got it", with Top Shop Oxford Circus providing a vast range of accessories that might be recombined with retro items. A major omission from the show was the shop, label and hairdressing salon, Demob/Demop, which played with a unique mix of elements, from pre-war rural/industrial workwear, to tailoring for men and women borrowed from '50s Americana, plus hints of '80s sportwear, all peppered with faux Constructivist graphics; blended together they made for a truly London look.
The question I left the show still asking was, why did such an explosion of creativity happen right then, right there? If Club to Catwalk had run concurrently with British Design 1948-2012: Innovation in the Modern Age some answers might have been provided. It was doubly annoying as the smaller show could have provided context for the blockbuster too, because so much of the UK's post-'80s credibility in the design world had been generated from the cool-factor that grew out of its fashion, club and music scene, not to mention the actual talents that were nurtured there. There would have been no '90s Cool Britannia if it hadn't been for these busy little bees. As it was, the fashion content of the larger survey show was disappointing, restricted to one small room housing a couple of straight-off-the-catwalk looks, which totally undersold the entire British fashion industry. I suppose the curators were busy doing something else…
Getting back to that question; why this explosion of creativity? It came out of punk; it was a reaction to the stodgy '70s hippie hangover and the boring high street. The uniform of flared denim and peasant skirts was enough to drive any self-respecting teen to rebellion, to look more extreme. Plus, they didn't want to be dictated to either. And when they got to art/design school and realised that they weren't the only gay/punk/rocker/diva/freak in the village, the possibilities seemed enless.
Post-war, Social Democrasy gave working/middle class kids a free higher education, and after that, housing benefit and start-up grants for "incubation" time. Add recession and Thatcher's cut-throat brand of conservatism, and this burgeoning creative meritocrasy had something to kick against.
This was the final generation to benefit from higher education grants. And now, even as the government celebrates the earning power of Britain's creative industries it continues to jeopodise the ability of students from all backgrounds to realise their potential.
C'est la vie. Remember to exit through the gift shop.