As opposition forces take control of Kiev, and statues of Lenin fall all over Ukraine, the legacy of Soviet power recedes still further. The military achievements of the USSR and its allies were undoubtedly aided and abetted by Mikhail Kalashnikov's most innovative design, the AK47. The Russian inventor and arms dealer produced the most popular gun ever, used by armies and rebels alike. Five years after my original post on Eye Blog, Kalashnikov died, on 23 December 2013, aged 94.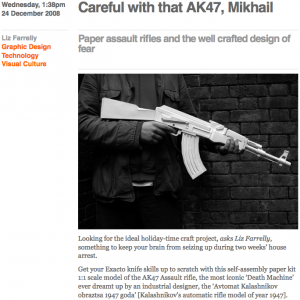 Wednesday 1:38pm, 24 December 2008
"Careful with that AK47, Mikhail"
by Liz Farrelly
Originally posted on Eye Blog
Paper assault rifles and the well crafted design of fear
Looking for the ideal holiday-time craft project, something to keep your brain from seizing up during two weeks' house arrest. Get your Exacto knife skills up to scratch with this self-assembly paper kit 1:1 scale model of the AK47 Assault rifle, the most iconic "Death Machine" ever dreamt up by an industrial designer, the "Avtomat Kalashnikov obraztsa 1947 goda" [Kalashnikov's automatic rifle model of year 1947].

Lying in a hospital bed recovering from battle wounds during the Second World War, Mikhail Kalashnikov entered a competition to design a new weapon. The Italians and Germans had already developed a radically different close combat firearm, the sub-machine gun, which delivered more rounds over a shorter distance than a standard rifle, and was better suited to the type of scrappy "fire fight" recently seen in Europe.
Initially Kalashnikov manufactured the gun too; still a favourite, the AK47 is the world's biggest seller, with more than a million manufactured illegally each year. The Russian Izhavsk Machine Tool Factory acquired the patent in 1999.
This paper kit version by packaging and product designers PostlerFerguson is also a best seller, doing a roaring trade (according to the publisher's UK rep) in that outlet most favoured by graphic designers, Magma. Packaged with a grainy black and white photograph of a faceless man in a flack jacket (not a regular combatant), brandishing the finished article, its paper whiteness is knocked back in the image, giving an impression of cold, grey steel. Muss up the surface with a bespoke camouflage pattern, and you'd be well advised to keep this convincing replica off the streets, especially in parts of the world where you might "draw fire".
That said, the paper kit sorts the "men from the boys"; Airfix it's not, being made of flimsy card-stock rather than trusty plastic. The instructions take this on board, suggesting that you simply substitute more paper if you happen to rip, make a wrong incision, or saturate a component with glue. The five sheets of components come with an A1-sized instruction poster, and although the "exploded" line drawings are visually appealing, the written instructions leave much to be desired. The mix of floating directional arrows and unsubbed copy, written in not-quite English, don't inspire confidence. Warnings are given: "Recommended for experienced crafters." But, do today's designers qualify, or has all that time deploying a mouse diminished their hand/eye skills? "Construction time depends on handcrafting abilities".
Well and truly foxed by the whole proceedings, and knowing that I personally can't (be bothered to) fold and score such teeny-weeny pieces of paper, I took myself off to the designer's website, and found an exhibition held earlier in 2008, "Paper Wars", featuring several "Death Machines" by Martin Postler, constructed using folded card, which have been decorated and customised by invited collaborators.
Here Postler's motivation becomes clear. He describes the Death Machines as "icons of designs", embodying "good engineering, reliable performance and robust construction". Meanwhile "the paper kits bring the contradictory experience of weapons into the home", the aim being to demonstrate that they are "admirably designed and aesthetically fascinating and simultaneously terrifying in their lethality".
The level of skill and effort that Postler and his colleagues at PostlerFerguson have demonstrated in organising the exhibition and developing these paper products is awe-inspiring. But, I can't help thinking that the majority of the audience for these kits will just think, "Cool", and be happy brandish their paper weapons around the studio, shooting troublesome colleagues and clients in the back without a second thought…
Papercraft 1:1 AK47 Assault Rifle
Designed by Martin Postler
Published by Die Gestalten Verlag (sold out)