Bethan Laura Wood and Liz Farrelly
Conversation, 15 August 2013
During the London Design Festival, Bethan Laura Wood staged her first solo show in the UK, at The Aram Gallery, London, entitled, Zigzag:Crisscross. I interviewed her beforehand, but it was more of a conversation, over dinner at L'Entrepôt, and below is the edited interview that appeared in the small but perfectly formed publication, which accompanied the show. This month Bethan and her studio colleague, Kim Thome, unveiled a window installation as part of Selfridge's Festival of Imagination. A big hit with Selfridges and the ICA, Bethan also contributed to the ICA Off-Site exhibition staged in the shell of Selfridges hotel building, also in September 2013, and I'll be adding some thoughts about that show later.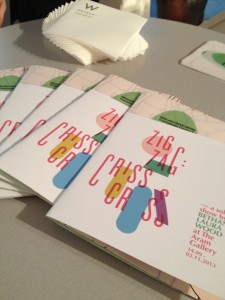 Liz Farrelly: "Zigzag:Crisscross" at the Aram Gallery features two new projects. Why bring them together?
Bethan Laura Wood: As a young designer, the idea of having a retrospective seemed wrong; so this is a show of work made this year, and the two projects are inspired by urban environments where I live and work. Zigzag comes under the umbrella of the London collection (which also includes Particle), and Crisscross was inspired by Mexico City. Plus, it's an ongoing investigation – and love – of the materials that make up the city, and especially the layering in a city like London, built up over years.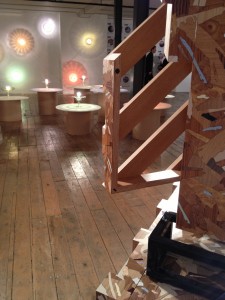 LF: You've also included some pieces of Particle in this show, but Zigzag feels like quite a departure.
BLW: I made some teaser pieces of Zigzag for my exhibition in Milan (April 2013). Originally conceived in the spirit of Particle, they were to be used in combination with the laminate "cages", adding more display space. The idea of the Library came from a discussion with my gallerist Nina at Nilufar. When we came to showing them she said, put them together! And it worked super well.
LF: Explain, "in the spirit of Particle".
BLW: The rules for how the "cages" are constructed come from the rules for how Particle is made – the proportions, measurements, distances between elements.
LF: So Zigzag came from Particle?
BLW: Yes; that's often how my work starts and progresses, one project leads into another. But now, with Zigzag Library, it's a project in its own right, and I'm finding elements that work for that.
LF: It has an urban feel, of construction, cranes and scaffolding. Is that where the aesthetic came from?
BLW: I've been taking photographs; there's a lot of construction going on in London.
LF: There's a building boom, so it's topical.
BLW: It's partly that, but I also started appreciating external fire escapes, and metalwork in general, which became a key influence for those shapes.
LF: You've mixed in some luxurious elements in your choice of materials.
BLW: It's never going to be Ladderax or an extremely minimal shelving system; I wanted it to have the multi-functionality of those systems, but with elegance too. Usually the metalwork is just a supporting structure; in much architecture the I-beams are supporting but don't provide the aesthetic of a building. For me, sometimes buildings look more beautiful during construction than in their final form. I wanted to find a way for the metal structure to be both supportive and set the rhythm and fluidity of the piece, so it can change, and provide a new format for displaying books.
LF: So this is a practical solution?
BLW: "Pretty" practical! Expensive shelving systems are also about displaying objects; if you want to absolutely ram shelves with books, then you opt for built-in, functional, strength. But there's another type of bookshelf that is about display. I was interested in making a system where the books don't go on the shelves, the objects do, and the books go in the frames. When I was working out how the shelves interact with the zigzagging metal structure I realised that they needed to be angled, otherwise they upset the rhythm.
LF: And that prompted a new function?
BLW: Yes, like a library display for the "book of the week".
LF: …or an antiquarian bookshop, showing off rare books, alongside collections of objects.
BLW: Exactly. And I think, because communication has become so digital and literature is digested via the Internet, one key way for the physical book to survive is for more care to be taken in its design and production.
LF: …make books more precious…
BLW: Yes. There are some beautiful new (and old) bindings and covers, and this system allows you to see them.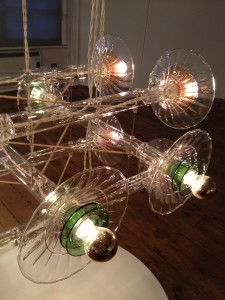 LF: OK. Now tell me about Mexico City and Crisscross.
BLW: Mexico City is amazing! I was there for seven days on a residency. I've been lucky to get a number of residencies since graduating from the RCA; they allow me to make work specifically about a place.
LF: But the Mexico trip was more of an opportunity to be inspired and collect reference material?
BLW: It wasn't the same as being in Italy for three months, getting to work with a glass artisan, Pietro Viero, who I still work with, and who made half the glass for this show. But it was interesting because it was different. W Hotels and Design Miami helped me see so much; Fernando Laposse was with me too (he's actually from Mexico), and showed me around. The residency was about W Hotel in Mexico City, and for the brief, the city was key.
LF: Did you adapt the brief? Did you think, I'm in a new city and I want to explore, just like I do in London?
BLW: I had my own agenda and wanted to see as much as possible; I had schemes for getting to yet another craft fair! I do a lot of self-driven work, so it's nice to have a brief; it was about making connections, and what happens when local is global and global is local, and about responding to spaces within the hotel and how new pieces might fit.
LF: Did you choose spaces in the hotel or were they designated? What sort of spaces?
BLW: I chose. Light wells and hallways. There are a couple of light wells between floors, and during the refurbishment, a new stairwell will be added in the foyer.
LF: So the sconces are for the corridors and the chandeliers are for the light wells.
BLW: Yes, but the sconces came from the chandelier.
LF: So you didn't set out to design sconces too; they're a by-product?
BLW: Somewhere between a by-product and a showcase for the potential of the lighting.
LF: …made of elements from the chandelier?
BLW: Yes, literally; I made a stand to hold the glass "petals" and lamp cover together, so as to make up the "flowers", and that became the sconce base. Crisscross is the nickname for the chandelier, and the sconce is Bloom. I like it because my hometown, Shrewsbury, used to be called the Town of Flowers.
LF: Because of the flower show?
BLW: Yes…I like that connection.
LF: And, Bloom (the sconce) is a new product that came from the process of making.
BLW: Yes…and my inability to choose just one!
LF: So, now there are many colour, size and texture combinations. When do you bring the lights back to Mexico?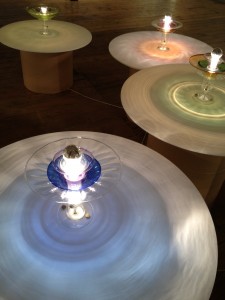 BLW: I'm showcasing the sconces at W Hotel in Mexico City for Design Week. At the Aram Gallery, I'm showing the chandeliers that I made for Design Miami Basel 2013, and am pushing it further by working on a new configuration that produces a longer chandelier, using the same number of elements.
LF: And in Mexico you worked with a new glassmaker, Nouvel Studio; so that was the global element?
BLW: Yes, but it's local too, because wherever I am I work directly with artisans; in Mexico with Nouvel Studio. It's global in the sense that the Pyrex elements are made by Pietro in Italy and the two artisans have never met, and probably won't, I'm the connecting point.
LF: Each artisan works with different types of glass and techniques too?
BLW: Very different.
LF: What are the qualities of Pyrex that you like?
BLW: Pyrex is a borosilicate glass, industrially produced in tubes with pre-set internal diameters; but it can be hand-worked too. Pietro takes a tube of glass and blows it out to open up the end. But I know that the measurement of the tube will always be the right diameter and the wall thickness will be "x" amount.
LF: And that's important because these tubes are your building blocks; you need to know the exact dimensions, they have to be consistent.
BLW: Yes. The glass is made and sold in standard forms. If you were to try and make that long tube shape in kiln glass it would be expensive and difficult, you'd have to use a mould; I wanted to play with those standard, extruded forms.
LF: Like your designs that use laminates, you're working with an industrially produced material.
BLW: Yes; with Crisscross, there are two types of glass, which are worked in different ways. Pietro's Pyrex starts off as an industrial material and he blows it out by hand; Nouvel take a globule of glass from their kiln, so they have much more control over the colour, and they blow it into a mould, and it goes from free-form to structured.
LF: So with kiln glass there is a lot more variation?
BLW: Yes, because kiln glass is made from core elements and you mix in the colour. But you can only buy Pyrex in certain colours, unless you order a massive volume.
LF: It's interesting that you're bringing together two types of glass, industrial and hand-made. In a way, that mirrors the city; we're surrounded with a mix of hand-made, DIY, improvised, customised, the industrial, the mass-produced, and all variations in between.
BLW: Yes; I think we're in constant flux, struggling between two basic desires. One is to be seen as an individual and have creative control, and that's about the love of the hand-made and the one-off and appreciating the trace of a person's hand in the making of something. Then there's another bit of us that loves to be part of a group and conform and become one entity, go beyond the self and believe in a utopian vision; that's where the positive elements of mass-production come from, the idea of making something for everyone. And we continually struggle with those two desires.
LF: The freedom and the structure…
BLW: Yes. I like to play with those two opposites within my work, and the contradiction of one minute being individual and the next minute not wanting to be alone.
LF: So, the city is inspiration and context for your work, and so too is the individual. It goes from the individual and the hand-made, to the city and the industrial, and back again.
BLW: Yes!