Opening this week is the third iteration of the Unravelled initiative, which pitches a curated group of craftspeople into a heritage location to make in situ artworks informed by the environment. The first time I wrote about this collaboration, Unravelling The Manor House, (2010), I jumped on a bus for Preston Manor, to discover the delights of this Edwardian seaside home and its ghosts (thanks to the well-informed guards and guides). Next time, Unravelling Nymans, required hiring a car and enjoying the National Trust's Nymans on a rainy Monday, no crowds and still very summery for Sussex. Here's that review, which first appeared on Crafts magazine's website. Consider this a primer for the new Unravelled, which opens this week.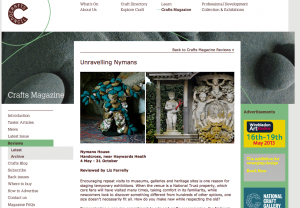 Unravelling Nymans
Nymans
Handcross, near Haywards Heath
4 May to 31 October 2012
"Unravelling Nymans"
by Liz Farrelly
Originally posted on the Crafts Council website
Encouraging repeat visits to museums, galleries and heritage sites is one reason for staging temporary exhibitions. When the venue is a National Trust property, with core fans who will have visited many times and take comfort in its familiarity, while newcomers look to discover something different from hundreds of other options, one size doesn't necessarily fit all. How do you make new while respecting the old?
Demonstrating a genuine commitment to arts and crafts programming, the National Trust and Arts Council England have initiated Trust New Art. Contemporary Arts Programme Manager, Tom Freshwater, cites aims as, "inspiring creative people" and "…creating something new to intrigue and delight our visitors".

Unravelled is a group of "artists who work with craft skills" (defined in a slim but perfectly formed catalogue). Since their group show at Preston Manor (2010), when months of "immersion" and research led to works inspired by the interior and objects of that Edwardian pleasure home, displayed in situ, the team have hooked up with the National Trust to reapply the formula to three sites over the next few years.
Nymans (the first outing) is no typical National Trust property (if there is such a thing). With the grander rooms destroyed by fire in 1947, it's a mix of picturesque ruin and faux Medieval manor house, built from scratch in the 19th century from an assemblage of architectural salvage, the aim being to approximate an ancestral home in the Sussex Weald complete with a millennia of additions. The house is a web of illusion, dressed in a swan-song costume of mid-century shabby chic, the surface cosiness fighting off an underlying sense of melancholy.
The house was created by the Messel family, German transplants who fabricated an Old English lineage and ended up with Royal in-laws. Oliver Messel, the renowned theatre designer grew up here, with sister Anne and mother Maud, both ladies of fashion and talented needlewomen. Such family ties and artistic leanings offer intriguing myths and materials for Unravelled to investigate.
Working individually, but on overlapping themes, the team picked apart the house and family, revealing stories and secrets that have proved intriguing to public and staff alike.
Pieces by Lucy Brown and Julian Walker comment on the relationship between mistress and servant and the vast collection of needlework and materials that kept both classes busy, much of which is not usually displayed. Caitlin Heffernan and Matt Smith both investigate the family's love of fancy-dressing-up, exploring fabric and embellishment, the illusion of stage craft and reminiscence. James Sutton and Alec Stevens re-imagine the childhood toys of Messel children and wartime evacuees, who no doubt played very different games. Sally Freshwater and Steven Follen link the renowned garden to the more humble house, borrowing materials and forms from nature. Guy Holden and Lauren Frances Adams comment on the family's collections and travels, referencing blue and white ware and souvenir fans, with Adams' giant version displayed in the bamboo forest; the garden too is a collection of exotica.
Such interventions require the visitor to look closer, to make connections, to imagine, and achieve this interaction using the widest range of materials and means. Two exhibits neatly demonstrate the breadth of scale and outcome. David Cheeseman's acrylic sphere almost completely blocks the hallway; light from window or door (depending where you're standing) illuminates botanical imagery rendered onto the inside of the sphere – in soot – and viewed through myriad reflections. The 1947 fire destroyed a priceless library of botanical publications, and a home; the family decamped to another building on the estate but the ruin remained. Like a visitor from a parallel dimension, the sphere tells of dark destruction, and yet it shines.
Gavin Fry's bejewelled Tortoise, is a footstool, upholstered with a cramming of baubles, beads and sequins aggressively worked-over and worried-at but still bright and beautiful. It's a comforting pet to a lone survivor, the last inhabitant, and hints at days and nights of busy-work, sat on that bedraggled sofa. Fry's intervention is intimate, playful, over-wrought, where Cheeseman's is mesmeric, alien, over-whelming. Both speak of melancholy and loss, but using vastly different vocabulary.
Through an impressive range of interventions, addressing issues pertinent to the site and exciting a gamut of emotions, Unravelling Nymans engaged and inspired this viewer. This exhibition offers an intriguing paradigm, with more promised.
And Part One…
Unravelling the Manor House
Preston Manor
Preston Drove, Brighton
1 May to 5 July 2010
"The discreet charm of the intervention"
by Liz Farrelly
Crafts
No.225, July/August 2010
Take 12 practitioners from the cutting edge of craft practice; give them eighteen months access to a hidden historical gem. Then, exhibit the results, their personal, site-specific retorts, within the very rooms that inspired them. That's the recipe for craft group Unravelled's project at Preston Manor. So well do these interventions fit the backdrop, enlivening the "Upstairs, Downstairs" interiors, by adding a surprising extra layer of awe, that they really should stay!
I say "hidden gem" because this Brighton resident hadn't previously visited Preston Manor, and had no idea what to expect. Slightly off the London-bound road, the white stucco house squats behind a high-walled garden. On the scale of "stately homes" it's distinctly modest. More a "weekend retreat" it dates back to the 1600s, but this final incarnation, now preserved by Brighton and Hove City Council, is an Edwardian home, complete with the donor family's contents and recently restored servants' quarters.
It is a breathtakingly atmospheric house, offering a well-preserved record of how an upper-class family and their small army of servants lived at the beginning of the 20th century. And it's sumptuously appointed, stuffed with decorative objets d'art, rampant with reminiscences, rumours, ghost stories even. Then there's the contemporary life of the house, as a popular destination for school parties, amateur historians and the curious in need of a fix of extreme luxury.
In exhibition terms, Unravelling the Manor House is "outside the box thinking", made manifest. Site-specific installations more usually occur in a white cube, a sympathetic, antiseptic gallery space. Preston Manor could not be further from that norm. It's not a large house, but there's much material to work with; and even though most of the artists have installed a number of new objects, they are discreetly placed, so as to interact directly with the inspiration.
At times, though, the placing is too discreet. The enthusiastic and knowledgeable docent who led me up and down stairs pointing out the exhibits, as they weren't labelled, added that some visitors had trouble finding them. Minus the clarity of a blank backdrop, the contemporary objects fight for recognition within interiors that boast such antique wonders as tooled-leather wall-coverings, richly embroidered bed-hangings, cabinets of figurines from Meissen and Staffordshire, a Morning Room brimming with personal mementoes and a Drawing Room stuffed with enough booty to keep "The Antiques Road Show" steaming on for another decade.
The new objects that caught my eye – often literally, I'd do a "double-take" – looked comfortably "at home" within the rooms because they shared materials (ceramic, glass, embroidery, paper) and scale with the decorative antiques. The conceptual content then shone out, subtly subverting. Louise Batchelor's teacups, re-imagined in solid, kiln-formed glass, glint among the Drawing Room treasures; distorting and magnifying the surrounding grandeur. Maria Rivans' boxed collages, assembled from Edwardian ephemera, quote the popular 19th-century pastime of decoupage, and retell scandalous tales of the last owner's love life. Caitlin Heffernan conjures humour and horror with her "Other" creatures; amorphous blobs, rag-dog-cushions with legs that recall the long-dead pets of the house. They half manifest, half lounge in the Cleves Room, the site of infamous Victorian séances. Realised in cosy William Morris prints, these unearthly creatures are decidedly cuddly.
Placing new objects within such a visually rich and atmospherically charged interior was a gamble; could they compete?
The practitioners, undoubtedly, were inspired and have produced an array of though-provoking, beautiful and innovative objects and artworks. The installation may have benefitted from extra signposting (by way of spot-lighting, labelling or a more descriptive map and legend). But, the up-side to such a discreet arrangement was the excitement and surprise at discovering these sometimes subtle, sometimes bold interventions, which certainly brought the house to life.