Organic is one of my nominations, featured in the Design Museum's Designs of the Year exhibition. I've written about Kaptiza's two books for Eye magazine. Why am I reminding you now? Because there's just a month left to see this annual review of the best design around, and to participate in the Visitor Vote. Straight from the website: "Come along to the exhibition's pop-up polling station and place your sticker on the design that YOU think deserves to win. The winner will be announced on Friday 5 July." Exhibition closes 7 July, 2013. Check my tweets for updates.
Here's my review of Organic.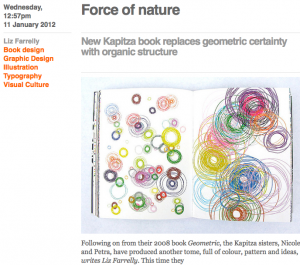 Wednesday, 12:57pm, 11 January 2012
"Force of nature"
by Liz Farrelly
Originally posted on Eye Blog
Organic by Kapitza. Introduction by Simon Thorogood. Published by Kapitza Books
New Kapitza book replaces geometric certainty with organic structure
Following on from their 2008 book Geometric, the Kapitza sisters, Nicole and Petra, have produced another tome, full of colour, pattern and ideas. This time they self-published, so as to oversee all aspects of the editorial and production process.

Again, the full bleed patterns result from an exploration of possibilities, experimenting with a new series of fonts. But this series is inspired by nature rather than geometric certainties. Back in summer 2011, Kapitza explained their creative process: "We started scribbling with handwriting, and overlaying photos of structures from nature. Then, we played around with the software, pushing it where it didn't want to go. Initially, we changed the spacing between and around characters, then took it out."
The results are random and arbitrary, with much overlapping and layering of elements. And, accentuating these new forms, their colour palettes have evolved too. The combinations are eccentric and complex, but they have included black and white patterns, too, for the purists.
Viewed together in the pages of Organic, these patterns seem to defy any sense of order. Kapitza have achieved a level of digital rule-breaking that is simultaneously playful, chaotic and breathless. Remember, it's still a font.