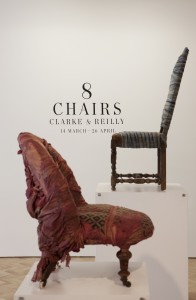 8 Chairs, Clarke & Reilly
Gallery Libby Sellers
41-42 Berners Street, London
14 March to 26 April 2013
Visited 25 April 2013
Gallery installation photography by Ed Reeve
The pathetic sight of an abandoned sofa, hunched next to the bins, between pavement and road, that reveals an intimacy of wear and tear, of spills and rips, is enough to guarantee it'll never be loved again. The inappropriateness of seeing a fundamentally domestic object in such an immodestly public setting – the world upside down – chases away any last vestige of cosiness and comfort. Now it's only fit for the worst type of treatment…and ultimately the dump.

Understandably, the perfection of pristine condition and the strictures of conservation are high on the agenda of connoisseurs and collectors of decorative art and design. So who, in their right mind, would leave a bunch of antique and vintage furniture (some of a ripe old age, all aesthetically distinguished) out in the elements, exposed to rain, snow and pollution on a Peckham rooftop and searing heat, dust and hungry "critters" in the Mojave Desert?
Bring on the "8 Chairs"; selected, upholstered and decorated – in fine fabrics, trimmings and finishes of great age, refined quality and considerable skill – by design-duo Clarke & Reilly; and then leave them at the mercy of the great "outside".
A film of the proceedings by Billy Body Cape reveals the crating, hefting, blowing wind, falling snow, and that (mercifully) someone was on hand to right them when they fell over. We also see how the once bright silks and stitch-perfect embroidery have faded, frayed, frazzled and unravelled in the process.
Now, back in Gallery Libby Sellers, we're presented with the aftermath; and just how are we to judge it? High-concept stuff usually leaves me cold, but prompting the process of aging, which usually takes decades if not centuries, by means of such deliberate and explicit tactics, excites questions about how we use, consume, value and discard objects. So, I'm intrigued.
With some classes of object, patination is considered a good thing, and certain materials and techniques are sanctioned as "improving with age", leather and wood being the most appreciated "worn in" materials. On the other hand, a scratch on the mirror-like surface of today's electronic gadgets is usually borne with a heavy heart; and the constant urge to upgrade allows us to discard the offending item for a box-fresh model.
In the case of the 8 Chairs the aged effect may be deliberate, but it's also is magical, so that imagined histories and narratives begin forming in my mind. I know the wear and tear is manufactured by Clarke & Reilly (themselves a semi-fictionalised pair), but that fact doesn't distract from the lifetimes hinted at, or the conjured-up, "well-upholstered" bodies, which were once dressed in the fine, fashionable fabrics now used to "clothe" the chairs. All good chairs function as "negative space" to the body, supporting, accommodating, echoing our mass, but in this case, the analogy goes a step further, with the chairs standing in as salvaged surrogates for their ghostly users.
Clarke and Reilly are in fact David Grocott and Bridget Dwyer, with backgrounds in antiques and fashion, respectively. Their joint expertise in fabrics and furniture feeds the strong narrative, which supplements the usual functionality of these chairs, and turns them into fetishistic totems.
The exhibition is rounded off by means of a further "extra-sensory" collaboration, with perfumer Azzi Glasser, who has created a scent inspired by the weathered aroma of the chairs. Subtly, the gallery exudes an atmosphere, warm, domestic but archaic, so that perhaps the chairs feel at home, once again.
Although the exhibition has closed, I want to show a few more images of the 8 Chairs.
Works courtesy Gallery Libby Sellers and Clarke & Reilly.
Joshua Tree photographs by Clarke & Reilly
Peckham photographs by James Ostrer
Studio images by Laurence Passera
Gallery Libby Sellers installation images by Ed Reeve